This nearly raw mac and cheese is pretty amazing, even though there's no macaroni and no cheese in it! The noodles are a summer favorite, spiraled zucchini, and the sauce, based on carrots cashews, hemp seeds, and nutritional yeast is surprisingly cheesy. Though a high-speed blender is preferable for making the sauce, no worries if you just have a regular blender.
Spiralize the zucchini noodles yourself, or, if you don't own a spiral slicer, you can get spiralized squash in the produce section of many supermarket these days, yay! This is recipe says "comfort food" like raw foods rarely do.
Serves: 2 to 4
2 to 3 medium zucchini (or 12 to 16 ounces pre-spiralized)
Sauce:
1 cup baby carrots, or peeled regular carrot

1 cup raw cashews

¼ cup raw hemp seeds

¼ cup nutritional yeast

1 cup plain unsweetened nondairy milk (hemp milk is good for this)

½ teaspoon ground mustard

½ teaspoon sweet paprika

½ teaspoon salt
1  If possible, use the spiral slicer blade with the larger holes to create thicker "noodles." Otherwise, prepare them as you can; they'll be great any way. Place them in a serving bowl and cut into shorter lengths.
2  For the sauce, if you're not using a high speed blender, chop or slice the carrots. For a high-speed blender, you can just toss baby carrots in whole or chop regular carrots roughly.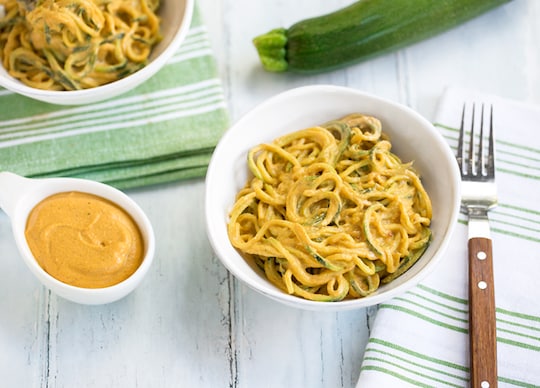 3  Combine the remaining sauce ingredients with the carrots in the blender and process until super smooth. If using a high-speed blender, you can let the machine run until the container feels a bit warm.
4  Add enough of the sauce to coat the squash generously, but don't drown it! You probably won't need all of it (see note below). Taste and add more salt to taste if desired.
5  If you'd like, you can warm the dish very gently on the stove top, or serve at room temperature.
Note: Use any excess sauce to top baked potatoes or sweet potatoes, or on lightly steamed vegetables. Especially yummy on broccoli and cauliflower!
Photos: Hannah Kaminsky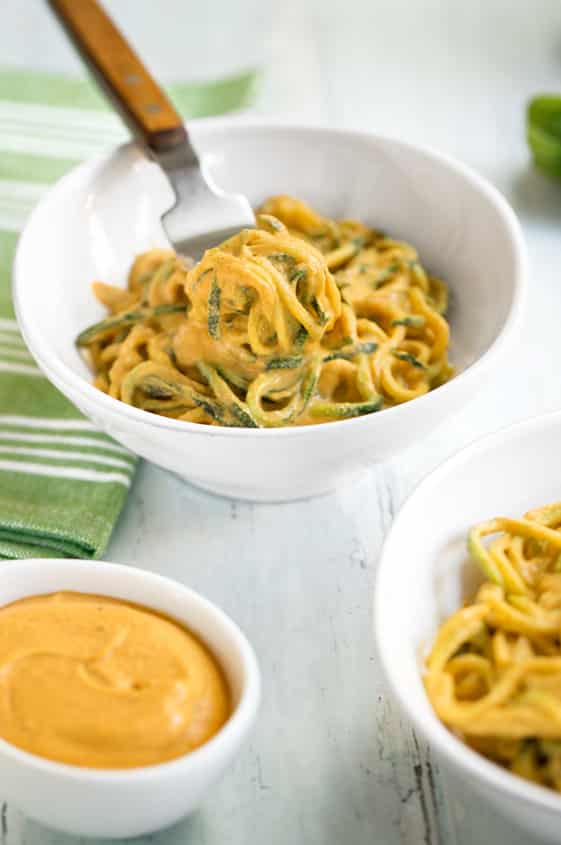 See more ways to make non-vegan food vegan and healthy food even healthier in Hack This!