This nutty cocoa breakfast spread is so delicious that no one will suspect it's also good for them. It's free of processed sugar and made with high-fiber, vitamin-packed beans and bananas (the riper, the better). I spread it on toast when I need a quick breakfast on the go. The key to a creamy spread is not to rush the pureeing in the food processor. Recipe and photos from The China Study Family Cookbook: 100 Recipes to Bring Your Family to the Plant-Based Table by Del Sroufe © 2017, BenBella Books, Reprinted by permission.
A note from VegKitchen: Think of this recipe as a healthy vegan Nutella alternative; who needs all that sugar, palm oil, and skimmed milk powder when you get even better flavor with beans and fresh and dried fruit?
Serves: 8
1 cup cooked or canned white beans (see Tip)

2 ripe bananas

½ cup nut butter of choice

1 cup pitted dates

2 tablespoons unsweetened cocoa powder

1 tablespoon pure vanilla extract

Pinch sea salt (optional)
1  Combine all the ingredients in a food processor and puree until smooth and creamy.
2  Store in an airtight container in the refrigerator for up to a week.
Notes

Any white beans will work in this recipe—Great Northern, cannellini, or navy—so use whatever you have on hand.
Pitted dates sometimes still have pits in them, so always check each date before you put it in the food processor. If you do accidentally put one in the machine, you'll hear a ticking noise, letting you know it's there.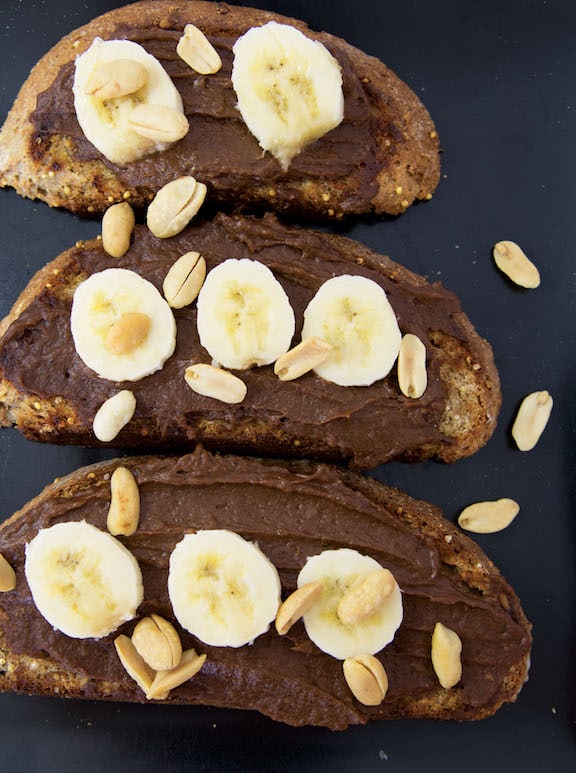 Explore Hack This! for more ways to make favorite foods healthier.
*This post contains affiliate links. If the product is purchased by linking through this review, VegKitchen receives a modest commission, which helps maintain our site and helps it to continue growing!