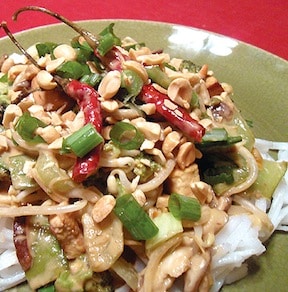 I love all nut butters, but I'll always be hopelessly devoted to my beloved peanut butter. Spicy peanut sauce is my weakness, so any day that this scrumptious, spicy, peanutty Pad Thai is on the table is a day to celebrate. Contributed by Dianne Wenz, from VeggieGirl.
Serves: 4
8 oz package rice noodles

2 tsp peanut oil, divided
1 tsp tamari sauce or Braggs Liquid Aminos
1 (14 oz) tub extra-firm tofu, drained, blotted, and cubed
2 cups shiitake mushrooms, sliced
1 bunch broccoli, chopped into bite-sized pieces
1 red bell pepper, cut into thin strips
1 cup snow peas, ends trimmed
several dried Thai chili peppers, optional*
3–4 cups baby bok choy, chopped
1 cup mung bean sprouts
3 scallions, sliced
⅓ cup roasted peanuts, chopped
Sauce:
1 cup coconut milk
½ cup natural peanut butter
2 tablespoons tamari sauce or Braggs Liquid Aminos
1 tablespoon fresh ginger, peeled
2 garlic cloves
½ teaspoon sea salt
¼ cup lime juice
1 tablespoon peanut oil
1 teaspoon chili garlic sauce or other hot sauce, or to taste
Cook noodles according to package. Set aside.
Mix all of the sauce ingredients together in blender or food processor. Set aside.
Add one teaspoon of the oil to large pan along with the tamari and swirl it around. Add the tofu and cook on medium-high heat until it's browned on most sides, stirring frequently. Remove the tofu from the pan and set aside.
Add the remaining teaspoon of oil to the pan along with the mushrooms, broccoli, bell pepper, snow peas and optional Thai peppers. Cook for 8 to 10 minutes, until all the vegetables are tender.
Add the bok choy and cooked tofu to the pan along with the peanut sauce. Stir together and let cook for 2 or 3 minutes, to let the flavors mix.
Add the mung bean sprouts and give it a quick stir.
Serve the vegetable mix over the rice noodles and garnish with the chopped peanuts and scallions.
*Thai peppers add a nice flavor to the dish, so I add them in when I'm cooking but I remove them from my dish before I eat. I find them far too spicy for my taste, but VeggieGuy loves them.