Here's a nice way to dress up fresh corn, when it's in season — simply roasting the kernels in a hot skillet adds great flavor. Embellished with red bell pepper, chili peppers, and pumpkin seeds, this makes an ideal a side dish to Southwestern-style specialties and bean dishes, though really, it goes with just about anything.
Serves: 6
4 ears fresh corn

1 tablespoon olive oil

1 medium red bell pepper, finely diced

1 to 2 small jalapeño or other hot chili peppers, seeded and minced, optional

2 scallions, thinly sliced

¼ cup pumpkin seeds

Pinch of ground cumin, optional

Salt and freshly ground pepper to taste
Break the ears of corn in half. Stand them on their flat ends and strip off the kernels with a sharp knife.
In a wide skillet, combine the corn kernels and about ¼ cup water. Cover and cook for 3 to 4 minutes, or until the kernels are just tender-crisp. Drain off the water.
Drizzle in the oil, then stir in the bell pepper and optional chili pepper. Turn the heat up to medium high and cook, stirring frequently, until the corn kernels are touched here and there with browned spots.
Stir in the scallions, pumpkin seeds, and optional cumin. Season with salt and pepper, then serve straight from the skillet.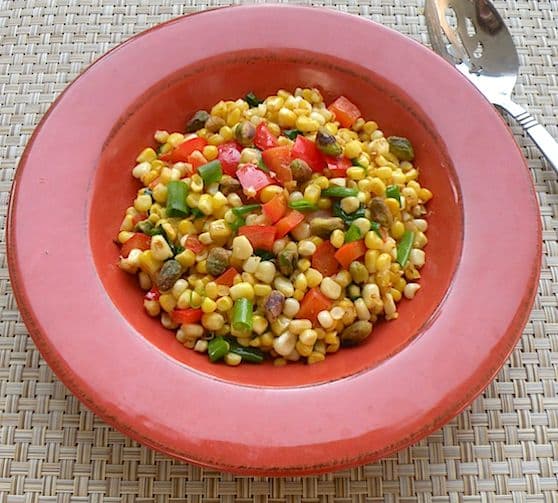 Nutrition Information:
Per serving: 144 calories; 7g fat; 5mg sodium; 19g carbs; 7g fiber; 6g protein