This flavorful summer pasta salad, featuring zucchini and yellow summer squashes, is a good choice for a vegan/vegetarian potluck, yet easy enough to make as part of an everyday meal. It's delicious with grilled vegetables and vegan burgers.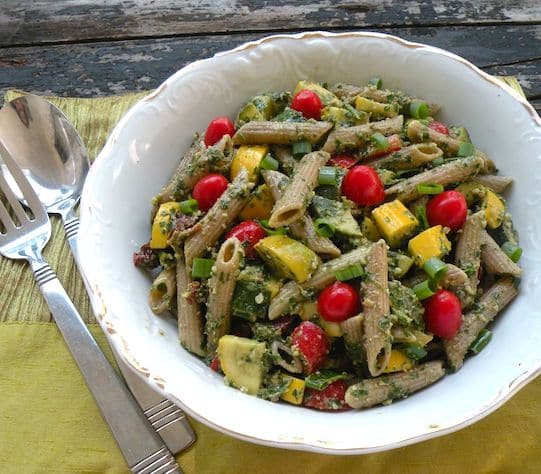 Serves: 8 or more
1 packed cup parsley leaves
Several basil leaves, optional
¼ cup toasted pine nuts or ½ cup walnuts halves, toasted or not
Juice of ½ lemon, plus more, to taste
2 tablespoons extra-virgin olive oil
6 to 8 ounces penne pasta or other, preferably whole grain
2 medium-small zucchinis, quartered lengthwise and sliced
1 medium-small yellow summer squash, cut to match zucchini (see note)
½ medium red bell pepper, finely diced
⅓ cup sliced sun-dried tomatoes
1 to 2 scallions, thinly sliced
Salt and freshly ground pepper to taste
Dried hot red pepper flakes, optional
1 cup or so halved cherry or grape tomatoes
Combine the first 5 ingredients in a food processor along with ¼ cup water, and process until the mixture is coarsely and evenly pureed. Set aside.
Cook the pasta in plenty of rapidly simmering water until al dente. Just before draining it, add the squashes to the water, and simmer for a minute or so. Drain and rinse the pasta and squashes under cool water, then drain well again.
Combine the squash and pasta mixture in a large serving bowl with the bell pepper, dried tomatoes, and scallions. Add the pesto and toss well.
Season with salt and pepper and add a bit of heat with red pepper flakes if you'd like. Add a bit more lemon juice if you'd like. A combination of lemon juice and salt, judiciously added, helps bring up the flavor. Scatter the tomato halves over the top and serve.
Note: Of course, you can reverse this and use two yellow squashes and one zucchini, or one of each plus another kind of tender summer squash like pattypan.
Nutrition information
Per serving: Calories: 159; Total fat: 8g; Protein: 4g; Carbs: 15g; Sodium: 7mg