This recipe, satisfying combination of pasta, lentils, and spinach (or other greens) is a longtime family favorite. Easy and substantial, this can easily become your go-to plant-powered pasta dish. Recipe from Plant Power: Transform Your Kitchen, Plate, and Life with More Than 150 Fresh and Flavorful Vegan Recipes by Nava Atlas. ©2014, published by HarperOne, reprinted by permission. Photos by Hannah Kaminsky.  
Serves: 6
8 to 10 ounces rotini, miniature penne, or other short, chunky pasta
1 tablespoon extra-virgin olive oil or 3 tablespoons vegetable broth or water
1 medium onion, finely chopped
3 to 4 cloves garlic, minced
1 medium red bell pepper, diced
1 to 1 ½ cups sliced white or cremini mushrooms (optional)
28-ounce jar good-quality marinara sauce (see Note)
14- to 16-ounce can diced tomatoes undrained, or 2 cups diced ripe fresh tomatoes
3 to 31/2 cups cooked or two 15- to 16-ounce cans (drained and rinsed) brown lentils (see Note)
1 teaspoon dried oregano
1 teaspoon sweet or smoked paprika
6 to 8 ounces baby spinach, rinsed well
¼ cup minced fresh parsley or sliced fresh basil, or more to taste
Salt and freshly ground pepper to taste
Crushed red pepper flakes to taste (optional)
Cook the pasta in plenty of steadily boiling water in a large pot until al dente, then drain.
Meanwhile, heat the oil, broth, or water in a medium skillet. Add the onion and sauté over medium-low heat until the translucent.
Add the garlic, bell pepper, and mushrooms, if desired, and continue to sauté until the onion is golden and the bell pepper is tender.
Return the cooked pasta to the large pot and stir in the marinara sauce, diced tomatoes, lentils, oregano, and paprika along with the vegetable mixture in the skillet.
Simmer gently over medium-low heat for 5 to 8 minutes, or until everything is well heated through.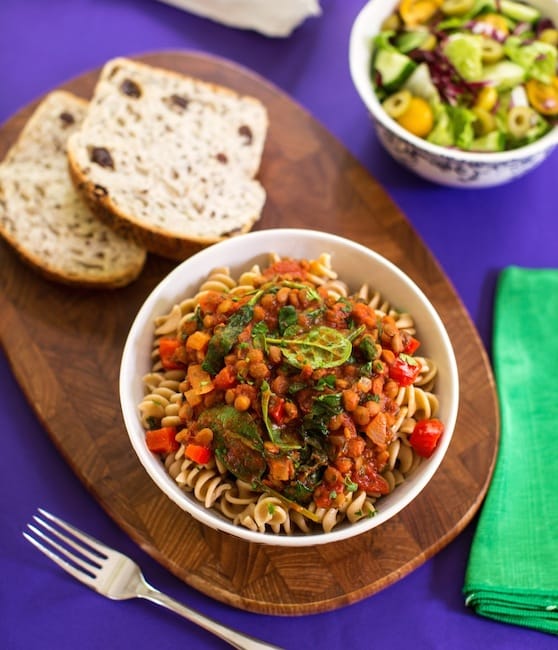 Add the spinach, about half at a time, cover, then stir in once it's wilted. Stir in the parsley or basil and season with salt and pepper. If you'd like a little heat, add a pinch of crushed red pepper flakes. Serve at once.
Note: Using canned lentils makes this a breeze, but when you aren't in a hurry, by all means use home-cooked lentils.
For this recipe, use 1 cup dried lentils. Rinse and sort them and combine them in a saucepan with 2 cups water. Bring to a rapid simmer, then lower the heat and simmer gently, covered, for 30 minutes, or until the lentils are tender and still hold their shape. Drain any excess water. This step can be done ahead of time.
The same goes for the marinara sauce—if you'd like to use a homemade version, use this recipe.
Variation: Use any leafy green you like in place of the spinach—tender kale and chard are especially good substitutions.
Nutrition information: Calories: 357 with oil, 338 without oil; Total fat: 4g with oil, 1g without oil; Protein: 17g; Carbohydrates: 67g; Fiber: 17g; Sodium: 621mg