Peach Melba is a classic 19th century dessert developed for Nellie Melba, Australian soprano, which would allow her to enjoy a frozen treat without damaging her vocal chords. Inspired by the original, this updated vegan peach melba ice cream becomes a much easier make-ahead dessert that merely needs to be scooped and served. Recipe and photos courtesy of Hannah Kaminsky, from Vegan a la Mode.* Reprinted with permission of the author and  Skyhorse Publishing.
Makes about 1 quart
1 pound fresh, ripe peaches (about 3 medium)
14-ounce can (1 ¾ cups) full-fat coconut milk
1 cup granulated sugar
1 tablespoon cornstarch
1 tablespoon arrowroot
Pinch salt
1 tablespoon Limoncello, or 1 tablespoon vodka + ½ teaspoon lemon zest
½ teaspoon vanilla extract
⅔ cup seedless raspberry jam
2 tablespoons water
First things first, pull out your blender and add the peaches (pits removed), coconut milk, sugar, cornstarch, arrowroot, and salt to the container.  Puree on high, until completely smooth; pass through a fine strainer to ensure there are no remaining pieces of unblended fruit in the final base, if using a lower powered machine.
Pour the peach and coconut puree into a medium saucepan and cook on the stove over medium heat. Stir often to make sure nothing sticks to the bottom of the pan, until the mixture comes to a boil. Cook for a minute longer,  then remove from the heat. Add the limoncello and vanilla, stirring to incorporate.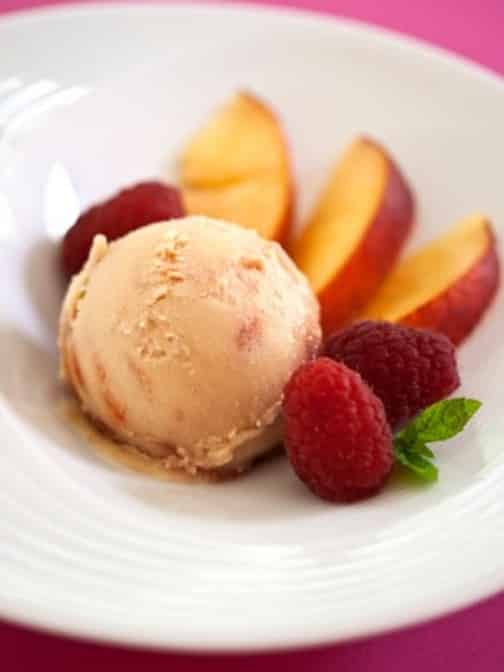 Chill thoroughly in the fridge, at least 3 hours, before churning in your ice cream machine according to the manufacturer's directions. Meanwhile, microwave the jam for 30 seconds, just to loosen it up a bit without getting it too hot.  Stir in the water, mixing until smooth and pourable.
Once finished but still soft, transfer scoops of the fresh ice cream to an air-tight container, and drizzle some of the jam over each addition. Lightly stir everything together, to marble the jam throughout but not completely mix it in. Once the jam appears to have been distributed in approximately even ribbons, cover and store in the freezer. Let rest for at least 4 hours to  further solidify before serving.
Hannah Kaminsky is also the author of My Sweet Vegan*and Vegan Desserts.* Visit her blog, Bittersweet.
*This post contains affiliate links. If the product is purchased by linking through this review, VegKitchen receives a modest commission, which helps maintain our site and helps it to continue growing!