These are kind of a chewy granola bar. Perfect for a lunch box treat, a picnic, or hey, since there's cereal and oatmeal in there, why not breakfast? These are so easy and so much yummier than packaged granola bars that there is no reason not to give 'em a go. If you love a salty–sweet combo, you can use roasted salted peanuts here, or increase the amount of salt by a big pinch. Recipe and photos from Isa Does It: Amazingly Easy, Wildly Delicious Vegan Recipes for Every Day of the Week* by Isa Chandra Moskowitz. © 2013 All rights reserved. No part of this excerpt may be reproduced or printed without permission in writing from the publisher. Reprinted by arrangement with Little, Brown and Company.

Makes 8 bars
Cooking spray 

½ cup smooth natural peanut butter 

⅓ cup pure maple syrup 

⅓ cup brown rice syrup 

1 tablespoon canola oil 

1 teaspoon pure vanilla extract 

½ teaspoon salt 

2 cups rolled oats 

1 cup crisp rice cereal (like Rice Krispies) 

½ cup roasted peanuts, chopped 

⅓ cup semisweet chocolate chips
Preheat the oven to 350°F. Line an 8-inch square baking pan with parchment paper, letting the ends overhang a little, and spray lightly with cooking spray. 
In a large bowl, stir together the peanut butter, maple syrup, and brown rice syrup until smooth. A strong fork usually gets the job done pretty well. Mix in the oil, vanilla, and salt. Starting with the fork and then wetting your hands and kneading together well, mix in the oats and crisp rice cereal. Be very firm; the cereal should even crunch up a bit as you're kneading, and you should have a compact, slightly crumbly mixture. Add the peanuts and chocolate chips and, once again, knead until well distributed. 
Transfer the mixture to the prepared pan and press in very firmly and as evenly as you can. Bake for 22 to 25 minutes, until the edges appear golden. 
Let cool completely in the pan. Remove from the pan by pulling up the sides of the parchment. The best way to slice the bars is to use a chef 's knife and press down in one firm motion. Do not saw through the bars. Store in the fridge individually wrapped in plastic wrap and they should keep for at least 5 days.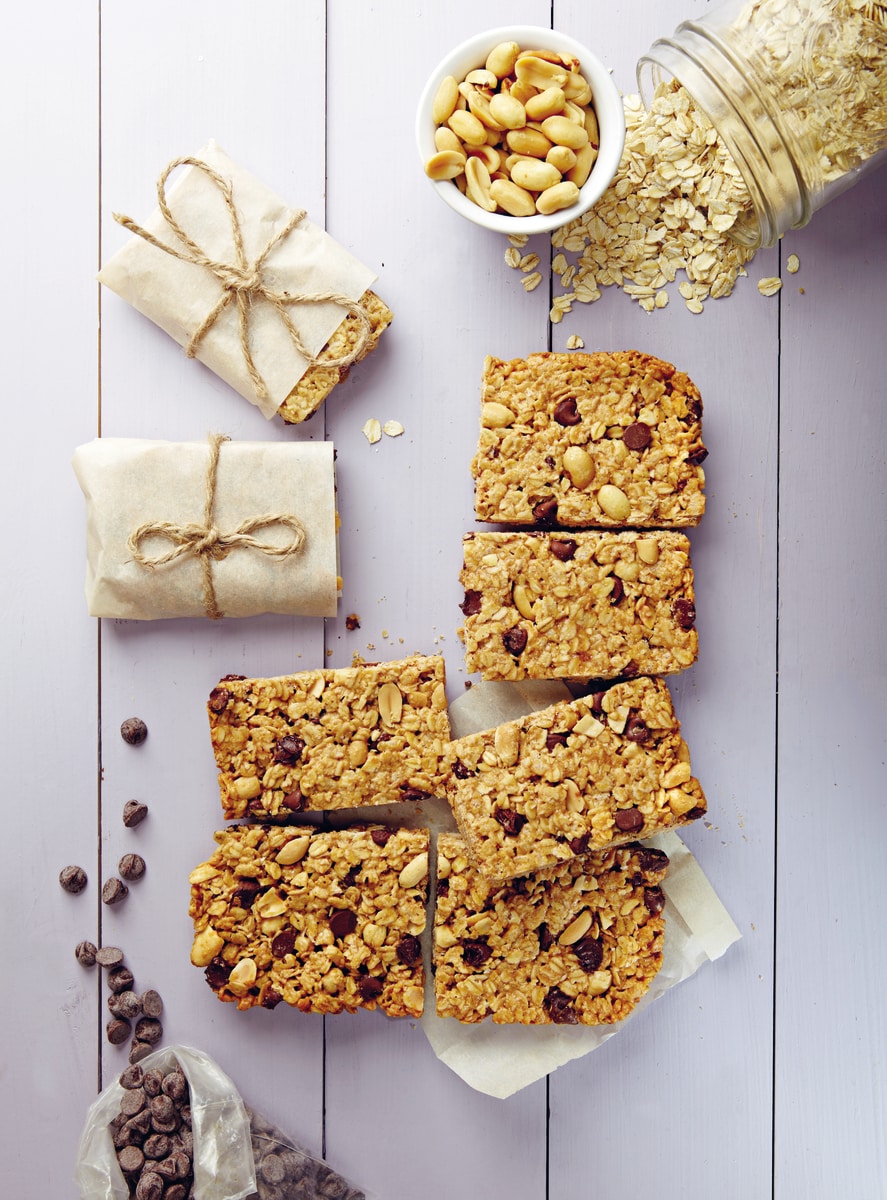 *This post contains affiliate links. If the product is purchased by linking through this review, VegKitchen receives a modest commission, which helps maintain our site and helps it to continue growing!