What's not to love about peanut noodles? And now, with flavorful Thai peanut satay sauce available almost everywhere, there's more to love about them than ever. This delicious Asian-style dinner is made in a flash thanks to great shortcuts like the sauce, as well as pre-cut broccoli slaw and veggie spring rolls that come from your natural food store's (or supermarket aisle's) frozen foods section.
Even with all these healthy shortcuts, this meal is more economical than what the take-out equivalent would cost. And it's off the scales as far as yumminess, and the kind of meal we love most — easy enough for weeknights, impressive enough for company.
Serves: 4
Time to table: 25 minutes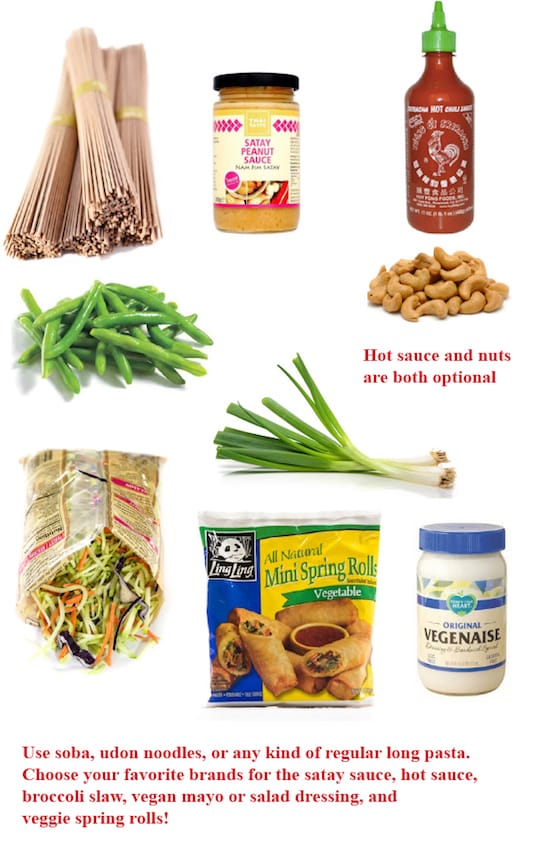 What you need
For the peanut noodles:
8-ounce package soba or udon noodles (you can also use regular linguine)

8- to 12 ounce package trimmed fresh green beans
or the equivalent of whole frozen green beans

8- to 12-ounce bottle or jar Thai peanut satay sauce

1 bunch scallion (you'll be using 3 or so)

Hot stuff like sriracha or dried red pepper flakes, optional

Roasted peanuts or cashews (a handful for optional topping)
The rest:
1 package fresh broccoli slaw

Your favorite dressing or vegan mayo

1 bag frozen vegetable spring rolls
What to do
1  Cook the noodles according to package directions.
2  When the noodles are nearly done, plunge the green beans into the water and continue to cook until the pasta is al dente and the green beans are tender-crisp. Drain and transfer to a serving bowl.
3  During the the time it takes to do steps 1 & 2, heat the spring rolls according to package directions.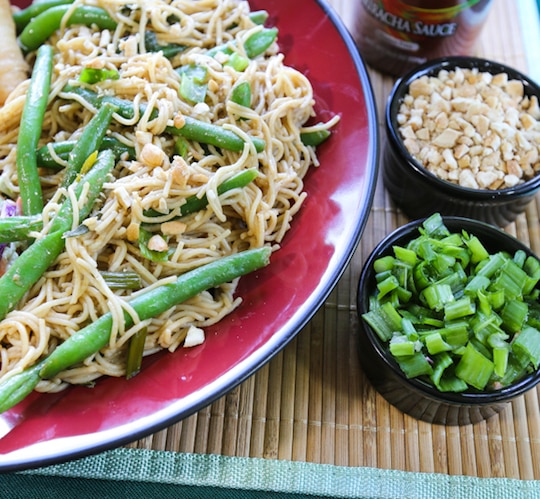 4  Also during the time it takes to do steps 1, 2, & 3, combine as much broccoli slaw as you'd like with enough dressing of your choice to moisten.
5  Once the noodles and green beans are in the serving bowl, add peanut satay sauce to your liking (chances are you'll use all or most of a jar or bottle) and 3 or so chopped scallions. Toss together.
6  Serve the noodles plated with the spring rolls and broccoli slaw. Pass around hot sauce and chopped nuts if using either or both; you can pass around extra chopped scallions as well.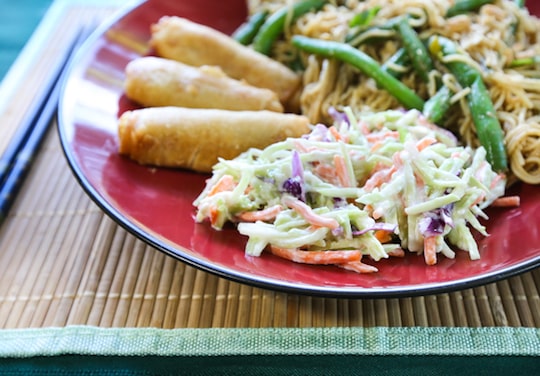 Photos: Evan Atlas