Pizza is such an easy go-to meal, but if it's warm weather or you want a lighter version, you'll enjoy these little pesto or hummus flatbreads that can be grilled right on the stovetop. And as quick as homemade pizza can be these days, with prepared crust, sauce, and vegan cheese, these are even quicker, since you don't have to wait until the oven gets hot and then the baking time, all of which can easily add up to 30 minutes. And while that's certainly not an eternity, how does 10 or 15 minutes sound? Even better, right?
These fun little flatbreads can be varied in a number of ways. As a change of pace from tomato sauce, we used a vegan artichoke pesto on some and hummus on others. You can use classic basil pesto as well, of course, purchased or homemade if you have an abundance of basil.
As for the flatbread, we like to keep it to about 8 inches in diameter so they can fit onto a standard skillet. You can use small partially baked pizza crusts, sturdy pita breads, or even Indian breads; as long as what you use doesn't start out completely unbaked. A quick skillet grilling on both sides should yield a crispy surface for your delicious flatbread creations.
And the nice thing … you can make as many or as few as you need, so it's a great meal for one or two. That's why we don't give exact quantities here.
Makes: As many as you need
Time to table: 15 minutes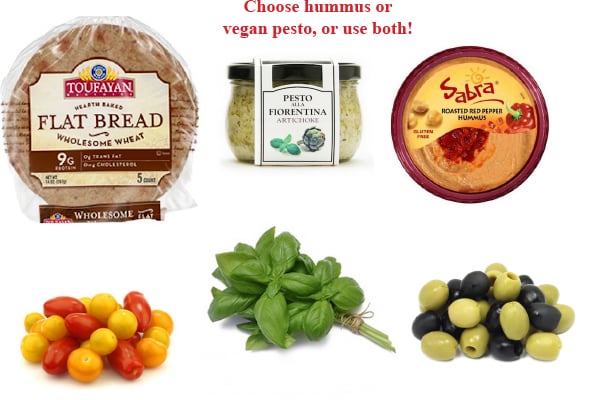 What you need
1 package flatbreads (mini pizza crusts, pita, naan, etc.)

Vegan pesto or hummus

Cherry or grape tomatoes, sliced

Pitted olives, sliced

Fresh basil, sliced
What to do
1  Heat a medium-size skillet. Grill one flatbread at a time until the bottom is golden brown, over medium heat. This should take no more than 5 minutes, but it depends on your stove and on the bread, so watch carefully!
2  Remove from the heat and spread with pesto and/or hummus. Cut into quarters and sprinkle with sliced cherry tomatoes, olives, and basil. Serve at once.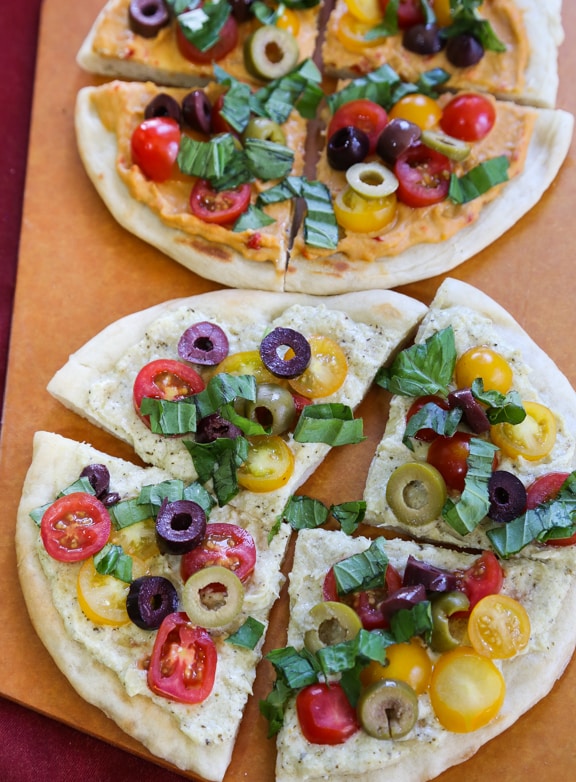 Photos: Evan Atlas