Also known as salsa Mexicana and salsa cruda, this is what comes with the chips in Mexican restaurants. (Cruda means raw, not crude.) For best results, chop very finely; large chunks of tomato are hard to catch on a chip. Reprinted with permission from The New Vegetarian Cooking For Everyone by Deborah Madison,copyright © 2014. Published by Ten Speed Press, an imprint of Random House LLC.
Makes about 2 cups
2 large ripe tomatoes, finely diced

2 garlic cloves, finely chopped

1 or more serrano chiles, finely diced, or 1 jalapeño, seeded and diced

¼ cup finely diced white onion

2 tablespoons chopped cilantro

¼ teaspoon sea salt

Juice of 1 lime, or more to taste
Combine the tomatoes with their juices, garlic, chiles, onion, cilantro, and salt in a bowl. Add the lime juice and taste for salt. If the tomatoes aren't very juicy, add 1 tablespoon water. Let stand 20 minutes or so before serving.
With Chipotle Chile: Omit the fresh chile and stir in ½ teaspoon pureed chipotle chile. Increase the amount until it's as hot as you like it.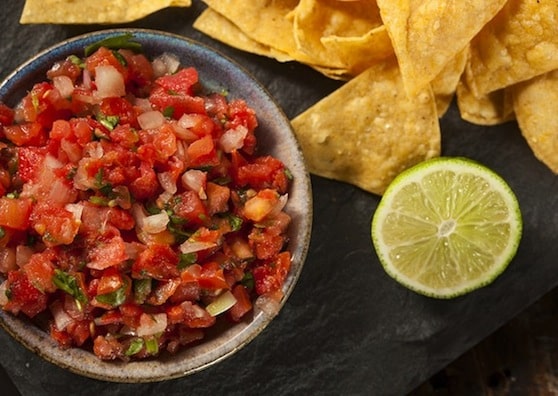 Nutritional Information:
Per serving (in 2 cups): 57.7 calories; 0.7g fat; 308.1mg sodium; 477.8mg potassium; 12.2g carbs; 2.6g fiber; 0.6g sugar; 2g protein 
*This post contains affiliate links. If the product is purchased by linking through this review, VegKitchen receives a modest commission, which helps maintain our site and helps it to continue growing!