This luscious main-dish salad is a crowd-pleaser — it makes a generous portion, and so is a good potluck dish. Brown rice mingles with chewy baked tofu, pineapple chunks, broccoli and bell peppers. Leftovers are great in for portable lunches, packed in a container. Adapted from The Vegetarian Family Cookbook.
Serves: 6
¾ cup long-grain brown rice (brown basmati is particularly good
or use an exotic rice blend)
½ cup vegan mayonnaise, or as desired to moisten
Juice of ½ to 1 lemon or lime (2 to 4 tablespoons), to taste
1 teaspoon good-quality curry powder, or more to taste
2 cups fresh pineapple chunks, or one 16-ounce can
unsweetened pineapple chunks, well drained
2 cups small bite-sized broccoli florets, steamed until bright green
1 medium red bell pepper cut into short, narrow strips
8-ounce package baked tofu, cut into narrow strips
2 to 3 scallions, thinly sliced, green parts only
½ cup raisins
¼ cup chopped cilantro or basil leaves, optional
Salt and freshly ground pepper to taste
Gently simmer rice in 2 cups water until absorbed, about 35 minutes. Allow to cool to room temperature
Combine the mayonnaise, lemon juice, and curry powder in a small bowl and whisk together and set aside until needed.
When the rice is done, combine it with the remaining ingredients in a serving container and stir together. Stir in the mayonnaise mixture. Allow to cool to room temperature, then serve.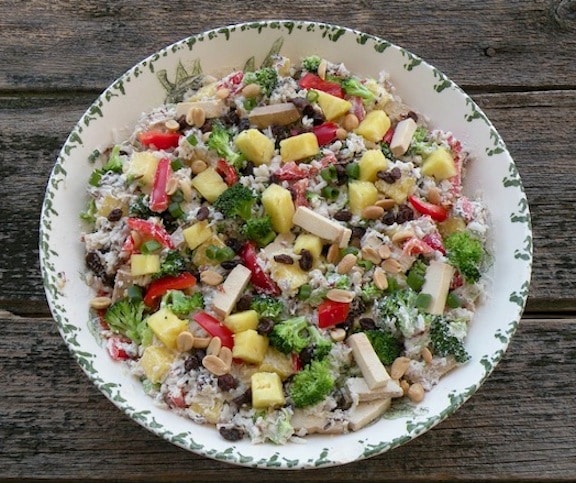 Nutrition Information: 
Per serving: 307 calories; 15g total fat;  35.7g carbs; 4g fiber; 10.2g protein; 216mg sodium;