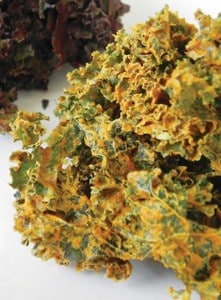 If you're at all unsure about the gustatory merits of kale chips, try this recipe first. You'll be shocked at how outrageously fantastic these pizza-flavored crunchers are. This recipe is from Practically Raw,* copyright © 2012 Amber Shea Crawley, reprinted by permission, Vegan Heritage Press.

Serves: 4
¼ cup sunflower seeds, soaked for 2 to 4 hours and drained
¼ cup hempseeds
¼ cup nutritional yeast
¼ cup sundried tomatoes, soaked for 30 minutes and drained
½ large red bell pepper, seeded and chopped
1 clove garlic, peeled
2 tablespoons lemon juice
2 tablespoons filtered water
½ teaspoon dried oregano
½ teaspoon fennel seeds
½ teaspoon sea salt
¼ teaspoon crushed red pepper (optional)
1 bunch kale, tough stems removed, roughly chopped (6 to 8 cups)
Combine all ingredients except the kale in a high-speed blender and blend until smooth, adding a splash of water if needed to blend.
In a large bowl, combine the kale and the pizza sauce. Use your hands to massage the sauce all over the kale, making sure it's coated completely.
Make It Raw: Arrange the kale in a single layer on a Teflex-lined dehydrator tray. Dehydrate for 8 hours or overnight, until crisp.
Make It Baked: Preheat the oven to 300°F and grease a baking sheet with coconut oil. Arrange the kale in a single layer on the baking sheet and bake for about 15 minutes. Remove the pan from the oven and use a fork or spatula to carefully flip the kale chips over (it's ok if you miss a few). Bake for 5 to 10 more minutes, watching carefully to make sure the kale doesn't burn, then remove from the oven and let cool completely.
Substitutions:
Hemp seeds: additional sunflower seeds or cashews
Red bell pepper: 1 medium ripe tomato, cored, seeded, and chopped
*This post contains affiliate links. If the product is purchased by linking through this review, VegKitchen receives a modest commission, which helps maintain our site and helps it to continue growing!