Portobello mushroom wraps with creamy coleslaw are so packed with flavor that adding anything else would be gilding the lily. That being said, if you like a bit of spice, you can add a strip or sriracha or spicy mustard to the mix. Even with the quick sauté of the mushrooms — which lend a "meatiness" to these wraps, these should take no more than 10 minutes per wrap to make.
You don't need a formal recipe — just follow the simple steps and see how the ingredients are arranged in the photo of the open wrap, below.
The ingredients you'll use, below, are enough to make 3 to 4 wraps, but you can make one or two if that's all you need.
These wraps are perfect for an at-home or portable lunch (pack in a snug BPA-free plastic container); all you need to complete the meal is some fresh fruit. For dinner, add a baked or microwaved potato or sweet potato and/or a steamed green vegetable.
Makes: 2 wraps
Time to table: 15 minutes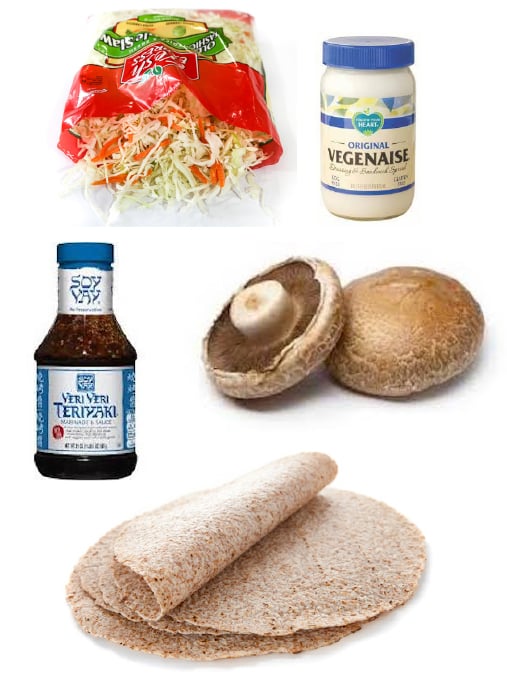 What you need
2 large portobello mushroom caps (or use pre-sliced; about 8 ounces)

Teriyaki or other flavorful Asian sauce like ponzu (or see note)

1 bag coleslaw cabbage (see note)

Vegan mayonnaise

Whole-grain wraps, at least 10 inches in diameter
Notes
You can also use a combination of a little soy sauce, tamari, or Bragg liquid aminos plus a little oil instead of a prepared sauce.
An 8-ounce bag of slaw will be more than enough, but if all you can find is a 16-ounce bag, that's fine. You'll find other ways to use it. The kind that has a mix of cabbage and carrots is very nice in these wraps.
What to do
1 Cut the portobello caps into ¼-inch-thick slices.
2 Combine the portobello slices with enough sauce to coat generously in a medium skillet. Cook for about 5 minutes, stirring often, or until they've lost their raw quality and have absorbed most of the sauce.
3 Meanwhile, combine the slaw (or half of the slaw if you have a 16-ounce bag) with vegan mayo to your liking. This will be too much slaw for two wraps, but you can store what's left over and use as a salad the next day.
4 Spread more mayo on the surface of the wrap, and arrange some of the slaw and mushroom slices down the center. Fold two edges part way over the ingredients, then roll up snugly. Repeat for another wrap, or save the leftover ingredients to make a similar wrap the next day.
Note: As mentioned at top, you can embellish these with srirarcha or spicy mustard if you want a flavor burst.