Low-sugar peanut butter puffed cereal gives these easy snack bars a fun look and really pop when you chew them! With peanut butter in them too, they're double peanut-y — though you can use any other kind of puffed cereal (we used Nature's Path Panda Puffs), like puffed rice. Taking minutes to make, these are no-bake; you just have to have some patience as they set up in the fridge (or you can speed things up by placing in the freezer).
Makes: 9 or 12 squares
¾ cup vegan chocolate chips

½ cup peanut butter

⅓ cup raisins or cranberries

¼ cup sesame or hemp seeds

½ teaspoon cinnamon

3 cups all-natural, low-sugar peanut butter puffed cereal
1  Line an 8- by 8-inch or 9- by 9-inch pan with parchment, allow it to overlap the sides.
2  Place the chocolate chips in a large microwavable bowl. Microwave on high for a minute; stir, then place back in the microwave for another minute.
3  Add the peanut butter, raisins or cranberries, seeds, cinnamon in the bowl with the melted chocolate chips and stir up until everything is fairly mixed; don't overdo it, as this has to go quickly.
4  Stir in 1 cup of the cereal at a time, stirring in quickly.
5  Pour the mixture into the prepared pan and pat in evenly with the help of a firm spatula. Top with more of the cereal and a few more raisins and cranberries if you'd like — it will look a lot prettier! Pat them in gently with the spatula.
6  Refrigerate until firm (at least an hour) or freeze for about 30 minutes. Makes sure it's really firm before attempting the next step.
7  Lift the entire thing out of the pan by grabbing a couple sides of the parchment. Place on a cutting board and cut into 9 or 12 pieces using a good sharp knife, like a serrated bread knife. Return any uneaten portion to the pan; then cover and refrigerate.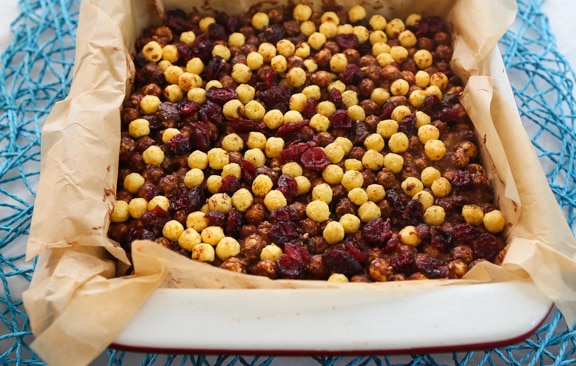 Photos: Evan Atlas