There are plenty of pulled jackfruit sandwich recipes around the web, but this miracle food is so amazing that we just had to have one of our own. This super-easy pulled jackfruit sandwich recipe relies on flavorful BBQ sauce to envelop the starchy fruit. In its unripe state it has that kind of stringy texture provides an animal-free way to enjoy a "meaty" treat. Pairing it with coleslaw gives the sandwich a cool crunch.
Pulled jackfruit
Two 20-ounce cans young green jackfruit in water (see Note)

1 tablespoon olive oil

¾ to 1 cup barbecue sauce (your favorite brand or homemade)

1 to 2 teaspoons barbecue seasoning such as mesquite (see Note)
The rest
2 cups or so pre shredded coleslaw

¼ cup vegan mayo or other creamy dressing

4 whole-grain buns
1  Drain and rinse the jackfruit. Cut away and discard any core portion, then chop the jackfruit roughly.
2  Heat the oil in a large skillet, then add the jackfruit and ¾ cup barbecue sauce. Heat up over medium-high heat until the sauce bubbles, then turn down the heat, cover, and cook for 15 minutes. Stir from time to time.
3  Uncover and mash with a potato masher or large fork to create string-like "pulled" texture. Add a little more BBQ sauce if the jackfruit has gotten dry, then stir in the BBQ seasoning  to taste. Cook for 5 minutes or so longer.
4  In the meantime, combine the slaw with enough vegan mayo to coat.
5  Divide the pulled jackfruit among 4 buns (you may have excess), top with a little coleslaw and the top of the bun, then serve.
Notes:
Make sure to get jackfruit in water, not brine or syrup. If you can't find canned young green jackfruit at a natural foods store near you, it's available online at Amazon.com.

Barbecue seasonings are available in the spice section of most supermarkets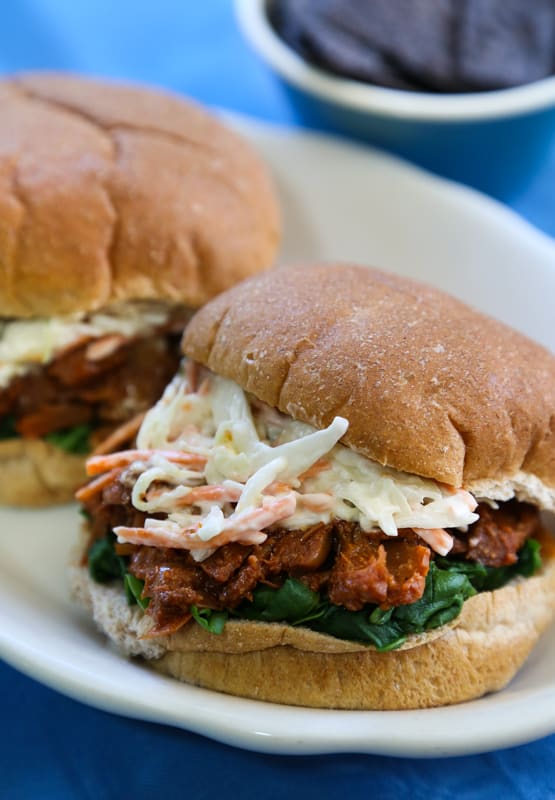 Photos: Evan Atlas