You may think that pumpkin is reserved for consumption between the months of October and November. That is true, except when that pumpkin is going into chocolate chip cookies. Then it is perfectly acceptable to eat it year round. The pumpkin acts as an egg replacer but also adds a lot of depth to the flavor. These cookies are a total crowd-pleaser, so if you serve them to your omnivore friends, be prepared for the question, "These are vegan?" Recipe from But I Could Never Go Vegan!: 125 Recipes That Prove You Can Live Without Cheese, It's Not All Rabbit Food, and Your Friends Will Still Come Over Dinner, copyright © Kristy Turner, 2014. Reprinted by permission of the publisher, The Experiment. 
Makes 2 dozen cookies
1¾ cups unbleached all-purpose flour

1 tablespoon flaxseed meal

1 teaspoon baking soda

1 teaspoon ground cinnamon

½ teaspoon ground ginger

½ teaspoon salt

¼ teaspoon ground nutmeg

¼ teaspoon ground cardamom

1 cup pumpkin puree (not pumpkin pie filling)

½ cup vegan butter, melted

¼ cup maple syrup

⅓ cup coconut sugar or vegan brown sugar

1 tablespoon unsalted smooth almond butter or whatever nut butter you have

1 cup vegan chocolate chips
Preheat the oven to 350°F. Line two baking sheets with parchment paper or silicone baking mats.
Whisk together the flour, flaxseed meal, baking soda, cinnamon, ginger, salt, nutmeg, and cardamom in a large bowl. Set aside.
Use a hand mixer (or whisk very quickly) to mix the pumpkin puree, vegan butter, maple syrup, coconut sugar, and almond butter. Add the wet ingredients to the dry and mix until just combined. Fold in the chocolate chips.
Use a tablespoon or ice cream scoop to scoop roughly 2 tablespoons of dough and place on the prepared baking sheets about 2 inches apart. Wet or lightly grease the bottom of a measuring cup and gently press down on each cookie to flatten. If you want them more evenly shaped, wet your fingers and gently form them into circles.
Bake for 8 to 10 minutes, until firm with lightly browned edges. Cool on the baking sheet for 2 to 3 minutes before transferring to a cooling rack. Let cool completely before serving (or not—it would be a shame not to try at least one while they're hot!).
Tip: It is especially important with this recipe to measure the flour by shaking spoonfuls of flour into the measuring cup until full. If you scoop with the measuring cup, the flour will be too packed and will affect the texture of the cookies.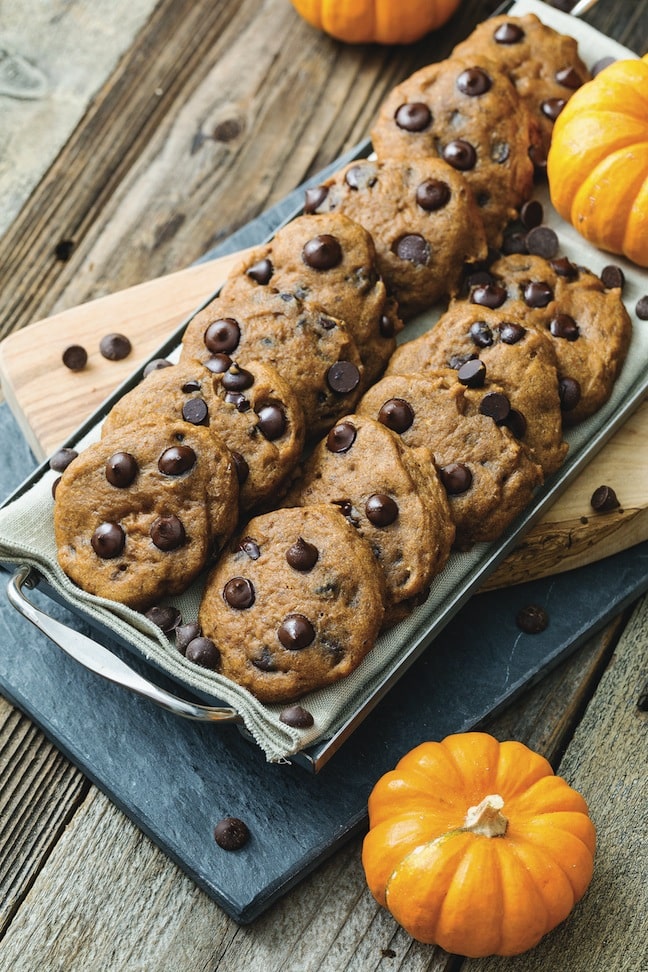 *This post contains affiliate links. If the product is purchased by linking through this review, VegKitchen receives a modest commission, which helps maintain our site and helps it to continue growing!