Here's a formula for quick refrigerator pickles that you will love — no need for traditional canning methods and equipment! I like to have these in the fridge as often as possible, as a crunchy, nearly calorie-free snack. They're also great served alongside veggie burgers, sandwiches, and wraps. Don't just limit yourself to cucumbers! This works with other veggies, as suggested following the recipe. Photos by Evan Atlas. 
Makes 1 quart
2 medium unwaxed (and preferably organic) cucumbers
(or 5 large kirby cucumbers or several small Persian cucumbers
1 tablespoon salt
2 tablespoons natural granulated sugar (or ¼ teaspoon stevia powder;
or 6 to 8 drops liquid stevia)
1 to 2 cloves garlic, minced
2 teaspoons dill seed, ½ teaspoon dried dill, 1 head of dill that's gone to flower,
or 2 tablespoons chopped fresh dill
1 teaspoon black or white whole peppercorns, optional
¼ cup apple cider vinegar (preferably fermented organic ACV, such as Bragg)
If using regular cucumbers, cut into quarters lengthwise, then cut each quarter in half. Then cut in half crosswise to shorten the spears. If using large Kirby cukes, cut into quarters lengthwise. If using smaller Kirbys, cut them in half lengthwise. Or, if they're really small, like Persians, leave them whole. Basically you need enough to pack into a quart jar, and this will vary according to size.
Combine the salt and sugar or stevia in a cup of hot water and stir until dissolved. Pour into a quart jar, then stir in the garlic, dill seed, optional peppercorns, and vinegar.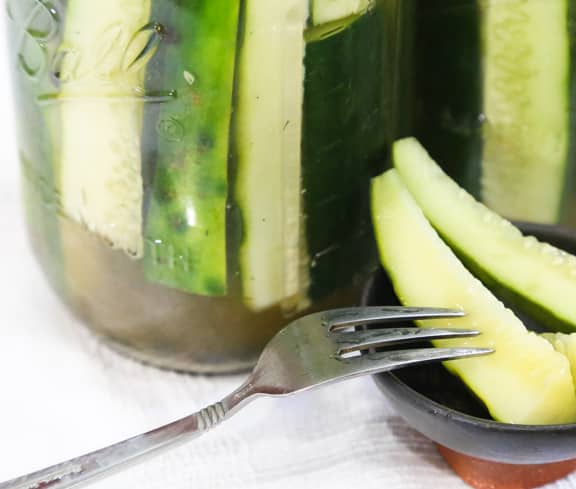 Pack the cut cucumbers into the jar, then fill to almost the top with water so that the cucumbers are completely covered.
Cover tightly and store in the refrigerator for several hours. These are usually ready in 24 hours. 48 hours is better, but I usually can't wait that long!
You can use the same liquid for another batch of cucumbers, though they will be a bit milder. Tailor the flavors when making your next batch — add more or less salt, sugar, garlic, and vinegar to your liking.
Variations: Try pickling blanched asparagus spears and barely wilted mushrooms (medium caps, cleaned and stemmed, work best). Raw radishes (halved or quartered), carrot slices or spears (or whole baby carrots), very small cauliflower florets, and thinly sliced zucchini are other veggies that pickle well.