These light and healthy quinoa, apricot, and oat muffin clusters boast an irresistible creamy, crunchy sweetness. Apricots are rich in iron, potassium, vitamin A and fiber. They're also flourless and vegan. Enjoy these yummy, good-for-you treats — they're nutrient-rich and delish! Recipes and photos contributed by Jennifer Strohmeyer of Virtually Vegan Mama.
Makes: 24 mini sized muffin clusters; or 12 to 16 regular sized muffin clusters
Apricot Paste:
1 cup of unsweetened dried apricots (I use Turkish, it's what I had)
Water for soaking
Cover apricots with cold water and soak for 4 to 6 hours. Remove apricots and reserve water. Place apricots in blender or food processor, and process until smooth (I like to use my Cuisinart Mini Prep for this). If needed, adjust consistency with some of the reserved water. Store the apricot paste in an airtight container in your refrigerator for up to two weeks. Use as needed.
¾ cup cooked quinoa (make sure you cook the water
out of the quinoa; it can be slightly undercooked)
1 ½ cups old-fashioned rolled oats
½ cup ground mixed nuts and seeds of choice (such as almonds, pecans, and sunflower)
½ cup raisins or unsweetened dried fruit of your choice
¼ cup almond butter
½ cup apricot paste (see above)
2 tablespoon flaxseed meal mixed with 6 tablespoons warm water
½ cup unsweetened almond milk
¼ teaspoon cinnamon
2 teaspoon pure vanilla extract
Preheat oven to 350 degrees F. Lightly spray non-stick muffin pan with cooking oil spray.
Cook quinoa according to package directions, but cook on slightly higher heat to absorb most of the water and to achieve a crunchier quinoa. Mix together flaxseed meal with warm water and set aside (stir every so often while following the next steps). Flaxseed meal as an egg-replacement should be gooey, not watery, like the consistency of an egg.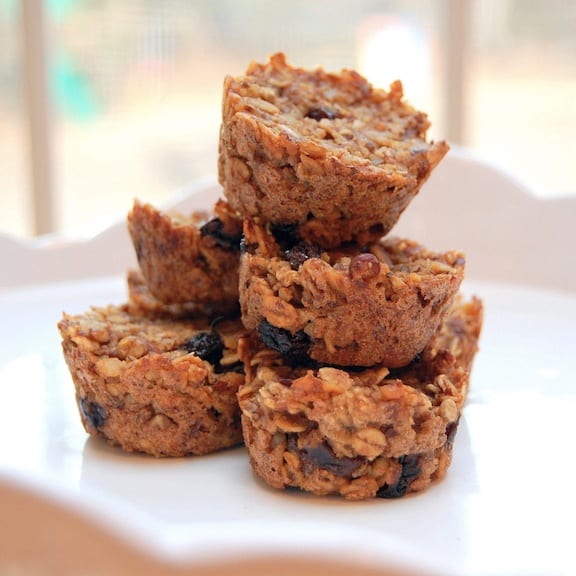 In a medium mixing bowl, stir together quinoa, oats, mixed nuts, raisins. In separate mixing bowl, add almond butter, apricot paste, flaxseed meal, almond milk, cinnamon and vanilla. Stir until combined. Fold in dry ingredients and stir well.
Spoon the granola mixture into 24 mini-muffin cups, filling almost to the top, or 12 to 16 regular muffin cups, filling about halfway. Press mixture down firmly into each cup with the back of a spoon. Bake for 30 minutes, or until golden brown. Let cool slightly before removing.