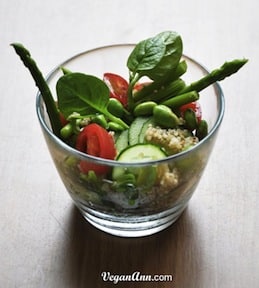 If you have never eaten edamame before, try this salad as an introduction. These tender green soybeans are easily found in the frozen section of natural foods stores. Combined with quinoa and asparagus, it all adds up to a pretty and nourishing salad. Contributed by Annie Taylor Chen, Vegan Ann.
Serves: 1 to 2
8 asparagus stalks
1 cup edamame
2 green peppers, thinly sliced
15 cherry tomatoes, cut in half
1 small cucumber, sliced
1 small bunch Chinese spinach
or two handfuls of baby spinach
1 cup cooked quinoa
1 tablespoon Chinese sesame paste or tahini
1 tablespoon rice vinegar
2 tablespoons soy sauce
Cut the asparagus into thirds, and steam with the edamame for 5 minutes.
Combine the asparagus, edamame, peppers, tomatoes, cucumbers, and spinach. Toss together, then mix the quinoa into the vegetables.
In a separate bowl, mix the sesame paste, rice vinegar and soy sauce together for dressing and sprinkle over the salad.