If anyone you know says that they could never go vegan because they'd miss hamburgers, just serve them these. Not that these are at all meat-like nor aspire to be. These burgers, with high-protein quinoa and lentils, plus flavorful mushrooms and plenty of seasonings, are hearty and satisfying. Serve them with your favorite fixings, or just on their own as a high-protein embellishment for the plate.
Though these are easy to make, it may be a bit too much to embark on after a long day of work. It's a perfect Sunday project, though—have them for dinner, then serve them again the next day or pack them for lunch (these are good at room temperature, too). They freeze well, too.  To streamline the process, cook the quinoa and lentils ahead of time (unless using canned lentils).
Makes 8 to 10 burgers
1 tablespoon olive oil
1 medium onion, finely chopped
2 cloves garlic, minced
8 ounces white or cremini mushrooms, cleaned and coarsely chopped
1 ½ cups well-cooked brown or green lentils (from about ¾ cup raw;
or use one 15-ounce can, drained and rinsed)
2 cups cooked quinoa
½ cup marinara sauce or salsa
⅔ cup quick-cooking oats or quinoa flakes
1 teaspoon sweet or smoked paprika
2 teaspoons mesquite or other grilling seasoning (see note)
2 teaspoons all-purpose salt-seasoning blend (such as Frontier or Mrs. Dash)
Salt and freshly ground pepper to taste
To serve:
Whole-grain buns, pita breads, or English Muffins
Any of your favorite condiments (mustard, ketchup, relish, additional salsa,
shredded lettuce, baby spinach, sliced tomatoes, raw or cooked onions)
Preheat the oven to 425º F.
Heat the oil in a medium skillet. Add the onion and sauté over medium heat until translucent. Add the garlic and continue to sauté until the onion is golden.
Add the mushrooms to the skillet and cover. Cook until wilted, then drain the liquid from the skillet and transfer the mixture to a food processor, followed by the cooked lentils. Pulse on and off until the mixture is finely chopped, but not pureed.
Transfer the mixture from the food processor to a large mixing bowl. Add the remaining burger ingredients and mix together well.
Line a baking sheet with parchment paper. Use a round, ½-cup measuring cup to make perfect burgers. Grab a level scoop of the mixture; invert onto the parchment with a sharp tap to release it, then flatten into a ½-inch patty with the bottom of the measuring cup. Repeat with the remaining mixture.
If you don't have a round ½ cup measuring cup, you can improvise by using any sort of ½ cup measure, and shaping into burgers once on the parchment paper.
Bake for 15 minutes, then carefully flip each burger, and bake for an additional 10 to 15 minutes, or until golden and firm on each side. Remove from the oven and serve at once with the bread and condiments of your choice.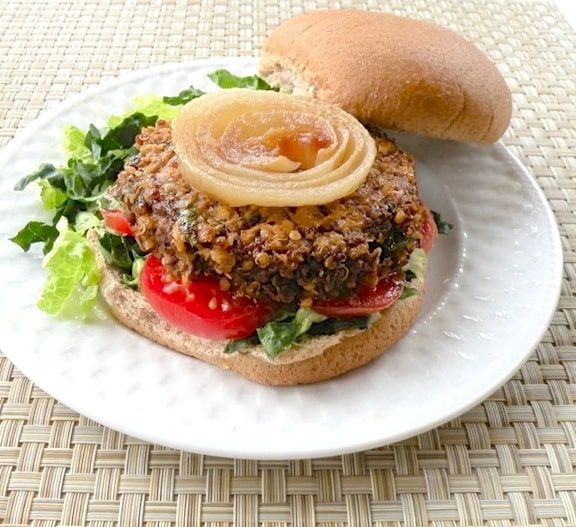 Note: Barbecue or grilling seasonings are great to have on hand. They have big, bold flavor without being overly spicy. They're readily available in the spice section of most supermarkets.
Nutritional Information: 
Per serving (without bun and garnishes): 214.9 calories; 4.2g fat; 61.4mg sodium; 205mg potassium; 36.3g carbs; 5.8g fiber; 0.6g sugar; 9g protein