Black-eyed peas and quinoa make a hearty pair, embellished with lots of flavorful tomatoes. Try serving this with Chili Cheese Grits or fresh corn, and a simple coleslaw or salad. If you can, do try the liquid smoke or mesquite seasoning, either of which add a subtle smoky flavor. Photos by Hannah Kaminsky.
Serves: 6 or more
1 cup uncooked quinoa (try this with red quinoa)

2 tablespoons extra-virgin olive oil

1 medium onion, or 1 whole shallot, minced

3 to 4 cloves garlic, minced

2 pounds ripe fresh tomatoes, diced

15- to 16-ounce can black-eyed peas, drained and rinsed

½ teaspoon dried thyme

Dried hot red pepper flakes, to taste

Salt and freshly ground pepper to taste

1 teaspoon liquid smoke or mesquite seasoning, or to taste, optional

Fresh basil leaves to taste, thinly sliced (use generously!)
Combine the quinoa with 2 cups water in a medium saucepan. Bring to a rapid simmer, then cover and simmer gently until the broth is absorbed, about 15  minutes. If you're using red quinoa, it seems to absorb a little more water than regular, so if it isn't cooked to your liking, stir in an additional ½ cup water and cook until absorbed.
Heat the oil in a stir-fry pan or wide skillet. Add the onion and garlic, and sauté over low heat until golden, about 2 to 3 minutes.
Add the tomatoes, black-eyed peas, and thyme. Bring to a simmer over medium heat, then stir in the cooked quinoa. Cook over low heat for 5 minutes, stirring occasionally.
Season with red pepper flakes, salt, pepper, and optional liquid smoke or mesquite. Stir in some basil, and add an extra sprinkling over the top. Transfer to a serving container, or serve straight from the pan.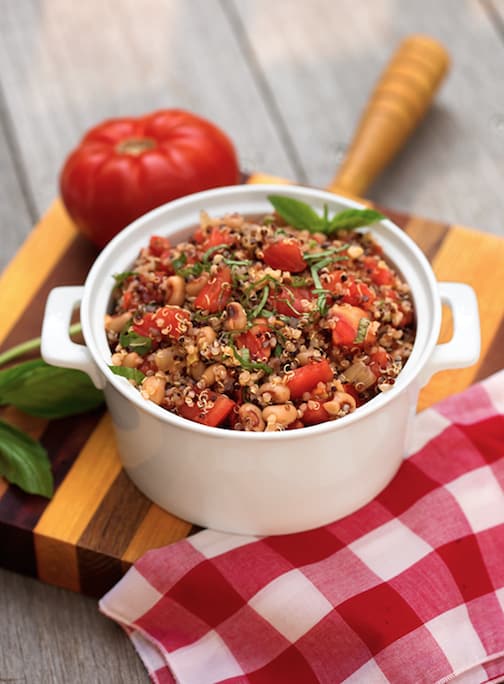 Nutrition Information:
Per serving (without optional ingredients): 293.2 calories; 11g fat; 677.7mg sodium; 403.9mg potassium; 41g carbs; 6.7g fiber; 2g sugar; 10g protein