Earthy and hearty, this combination of quinoa, tender squashed and mushrooms can be served any time of year. Serve with Avocado and Pinto Bean Salad or a big colorful salad to which you add your favorite beans. and some stone-ground tortilla chips. Photos by Rachael Braun.
Serves: 4 to 6
1 cup raw quinoa, any color, or a combination, rinsed in a fine sieve
1 vegetable bouillon cube
1 tablespoon olive oil
1 medium onion, chopped
2 cloves garlic, minced
¼ cup dry white wine, optional
1 pound or so mixed summer squashes of your choice
(zucchini, yellow squash, pattypan, etc.), cut into 

bite-sized pieces

6 to 8 ounces shiitake, cremini (baby bella), or portabella mushrooms,
or a combination, cleaned, stemmed, and sliced
1 to 2 small fresh hot chili peppers, seeded and minced, optional
¼ cup chopped fresh parsley or cilantro, or more, to taste
½ teaspoon dried oregano, or 1 tablespoon fresh
½ teaspoon ground cumin
Salt and freshly ground pepper to taste
Combine the quinoa and bouillon cube with 2 cups water in a medium saucepan and bring to a gentle boil. Lower the heat and  simmer gently until the water is absorbed, about 15 minutes. If you'd like a more tender grain, add another ½ cup water and cook until absorbed.
Heat the oil in a skillet or stir-fry pan. Add the onion and garlic and sauté over medium heat until translucent.
Add the wine, squashes, mushrooms, and optional chili peppers, and sauté over medium-high heat until the squashes are touched with golden spots.
Stir in the cooked quinoa, followed by the parsley, oregano, and cumin. Cook over low heat, stirring frequently, for 3 to 5 minutes longer. Serve at once.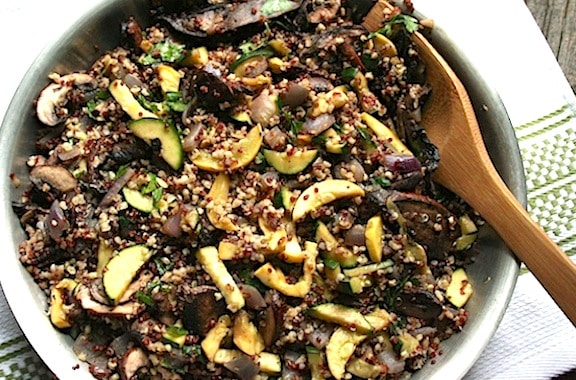 Nutritional Information: 193.8 calories; 4.8g fat; 292.2mg sodium; 498.2mg potassium; 30.6g carbs; 5.1g fiber; 3.4g sugar; 8g protein