This raw lemon mousse tart, made with a nut crust of almonds, macadamia nuts, and shredded coconut, is astoundingly light and flavorful. Recipe from Practically Raw: Flexible Raw Recipes Anyone Can Make by Amber Shea Crawley, Andrews McMeel ©2014, reprinted by permission. Photo by Ben Pieper.
Makes: 16 servings
For the crust:
1 cup dry (raw, unsoaked) almonds
¾ cup dry (raw, unsoaked) macadamia nuts
¾ cup unsweetened shredded coconut
1 cup golden raisins
¼ teaspoon sea salt
For the mousse:
1½ cups cashews, soaked for 2 to 4 hours and drained
⅔ cup coconut water
¼ cup lemon juice
¼ cup agave or coconut nectar
2 teaspoons grated lemon zest (optional)
¼ teaspoon vanilla extract
¼ teaspoon sea salt
⅛ teaspoon turmeric (optional, for color)
¼ cup melted coconut oil
To serve:
For the crust: Pulse the almonds, macadamias, and coconut in a food processor until coarsely ground. Add the raisins and salt, and pulse until the mixture sticks together when pressed between your fingers. Press into a 9-inch tart pan with a removable bottom (or a pie plate) and refrigerate or freeze to chill completely.
For the mousse: Combine all ingredients in a high-speed blender and blend until smooth.
To assemble and serve: Fill the chilled crust with the lemon mousse. Chill the tart for at least 1 hour, or until ready to serve. Top with fresh raspberries just before serving.
Substitutions:
- Almonds: pistachios
- Macadamia nuts: cashews
- Raisins: pitted dates
- Coconut water: ½ cup filtered water plus 2 tablespoons agave nectar
Variations:
- Replace ½ cup of the cashews in the mousse with Irish moss gel (see page 19) for an airier mousse.
- Divide the crust and filling between 4 to 6 mini tartlet pans instead of using one large one.
Nutrition information
Per serving: 247 calories; 18.3g total fat; 20.1g carbs; 3g fiber; 4.8g protein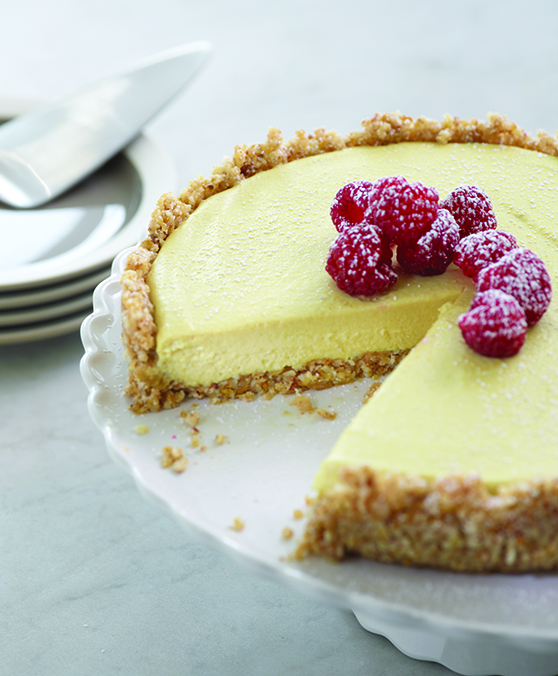 *This post contains affiliate links. If the product is purchased by linking through, VegKitchen receives a modest commission, which helps maintain our site and helps it to continue growing!