I've long been a fan of Real Pickles products, so when I found out they've introduced Real Pickles Turmeric Kraut, I was eager to try it. Real Pickles, located in Greenfield, MA produces an array of naturally fermented products. Though pickles and relishes are familiar foods, most pickling these days is accomplished with vinegar. This method doesn't give you the valuable, natural probiotics that naturally fermented foods do — a hallmark of Real Pickles products.
Real Pickles uses a process called lacto-fermentation (which in this case has nothing to do with lactose, or dairy). You can read more about their process here, but in a nutshell, from the company site, what's great about fermented foods:
Beyond preservation advantages, lacto-fermentation also increases or preserves the vitamin and enzyme levels, as well as digestibility, of the fermented food. In addition, lactobacillus organisms are heavily researched for substances that may contribute to good health. The diets of every traditional society have included some kind of lacto-fermented food. Europeans consume lacto-fermented dairy, sauerkraut, grape leaves, herbs, and root vegetables … The Orient is known for pickled vegetables, sauces, and kimchi in particular. Farming societies in central Africa are known for porridges made from soured grains.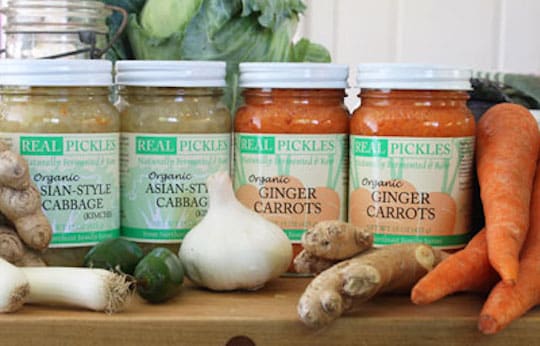 Real Pickles products are 100% organic and come from local, Northeast family farms. Aside from several kinds of sauerkraut and kimchee, Real Pickles makes naturally fermented pickles, of course, as well as pickled beets and carrots, and other products that you can explore here. If your natural foods store doesn't carry these products, ask them to special order them for you. Real Pickles does ship, but only to certain northeastern U.S. states.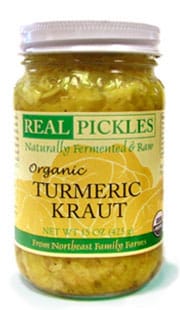 Oh yes, getting back to that Turmeric Kraut … turmeric also has many health benefits, so combining it with naturally fermented kraut is a brilliant idea. Enjoy it on the side of your plate (above, we served it with our vegan chili dogs!), or add flavor and nutrition to sandwiches, salads, and grain and bean dishes.
Honestly, we just take a nice scoop of whatever kind of Real Pickles product we happen to have in the fridge and serve with all of our everyday meals. It's a more reliable way to get our probiotics than with a pill (it has been proven that you never know how much you're really getting that way), and much tastier, too!
Photo credits: Top photo by Evan Atlas; all other photos courtesy of Real Pickles.