Bountiful Beans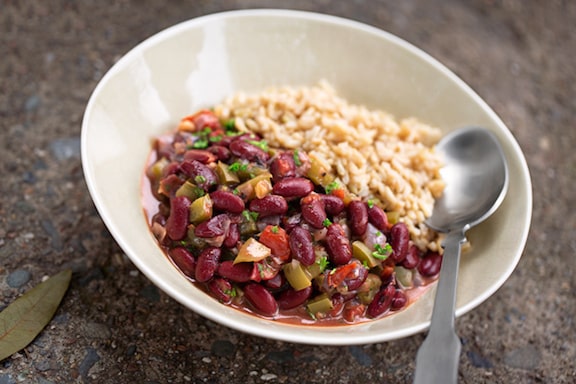 It's hard to think of a more classic combo than rice and beans. They're easy to make, inexpensive, and filling. Most of these dishes are already vegan in their original form, the few that aren't become completely plant-based, as presented here, with a simple omission or modification. If one had to choose a single truly characteristic dish of New Orleans, it would be hard to come up with one more renowned than Red Beans and Rice. Shown at top, this isn't a dish to start when you come home from work at night! It's not a lot of work, but needs time to simmer. It's perfect to make on a rainy Sunday afternoon. more→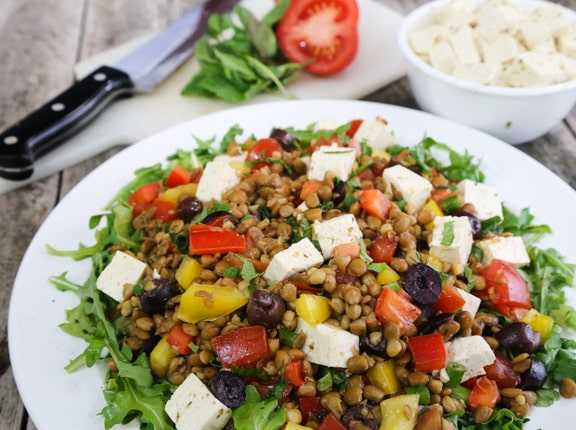 This hearty, Greek-inspired cold dish of lentils, tomatoes, olives, and tofu "feta" is easy enough to make for everyday meals, and impressive enough to serve on special occasions. It's a nice dish to bring to potlucks, as well. Photos by Evan Atlas.
more→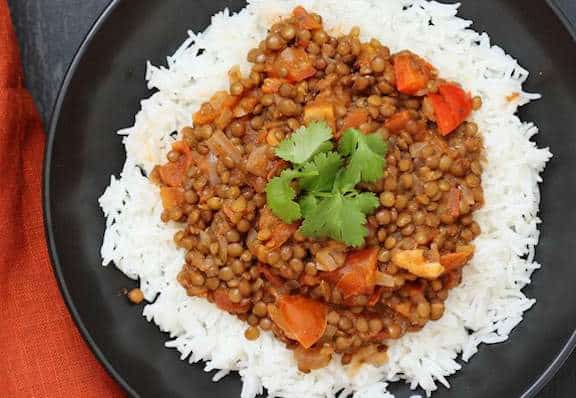 If you want to impress someone with a dal, make it this one. Don't be afraid of the number of spices—it is quite simple to make. The spices and garlic are blended to a paste and fried in the oil. A hot sauce (chiles, garlic, and vinegar) in the tadka is another secret to getting the right flavor profile. Serve this as a part of a meal, or with rice or naan or other flatbread. Recipe and photos from Vegan Richa's Indian Kitchen * © 2015 by Richa Hingle. Vegan Heritage Press, LLC. reprinted by permission.

Masala Lentils (Sabut Masoor)
Prep time:
Cook time:
Total time:
A hot sauce (chiles, garlic, and vinegar) is the secret to getting the right flavor profile in this lentil dal. Serve this as a part of a meal, or with rice or naan or other flatbread.
Ingredients
¾ cup brown lentils, washed and drained
2 cups water
2 to 3 teaspoons safflower or other neutral oil
½ cup finely chopped red or white onion
6 cloves garlic, chopped
½ teaspoon ground cumin
2 teaspoons ground coriander
½ teaspoon ground cardamom
½ teaspoon ground cinnamon
½ teaspoon fenugreek leaves or ⅛ teaspoon fenugreek seeds
1 teaspoon sweet or hot paprika
⅛ teaspoon nutmeg
¼ teaspoon black pepper
1½ tablespoons sriracha or other hot sauce, to taste
2 tablespoons water
1½ cups chopped tomato
¾ teaspoon salt
2 tablespoons chopped cilantro, for garnish
1 tablespoon vegan butter (optional)
Instructions
Combine the lentils with 2 cups of water in a saucepan. Partially cover and cook over medium heat until the lentils are tender, 25 to 30 minutes.
While the lentils are cooking, make the tempering. Heat the oil in a skillet over medium heat. Add the onion and cook until golden brown, 5 to 6 minutes.
In a blender, combine the garlic, cumin, coriander, cardamom, cinnamon, fenugreek, paprika, nutmeg, black pepper, sriracha, and 2 tablespoons of water. Blend to combine well.
Add this paste to the onions in the skillet. Cook until fragrant, about 2 minutes. Stir in the tomatoes and salt, and cook until the tomatoes are tender, about 8 minutes. Mash the larger tomato pieces.
Add the tempering to the lentils. Bring to a boil over medium heat. Reduce heat and simmer for another 5 minutes.
Taste and adjust salt and spice. Garnish with cilantro and vegan butter, if using, and serve hot.
Visit Richa at Vegan Richa: Eating plants until we photosynthesize!
*This post contains affiliate links. If the product is purchased by linking through this review, VegKitchen receives a modest commission, which helps maintain our site and helps it to continue growing!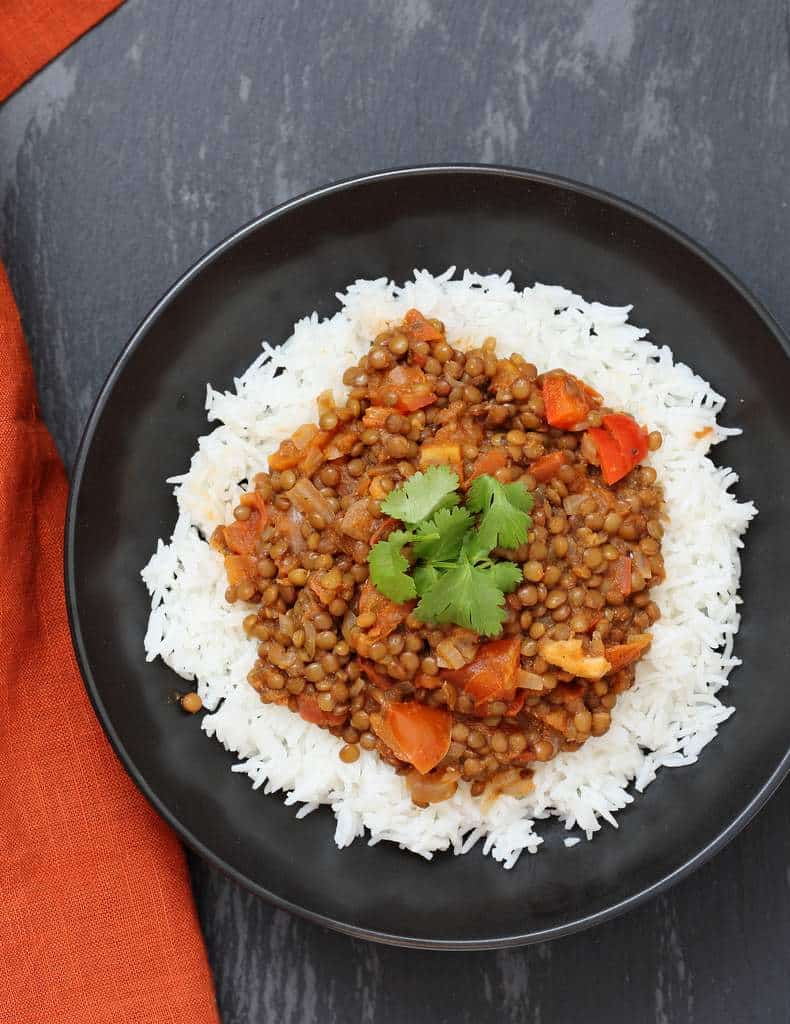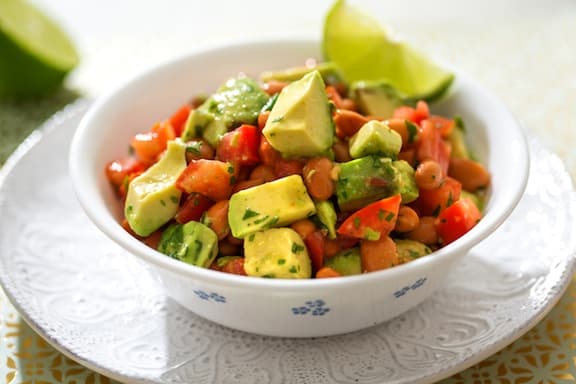 Bean salads are so easy to make — it's usually all about tossing together a bunch of tasty ingredients — and so useful. They're great to share at potlucks, take on picnics, pack into lunches, or just to serve on the side of the dinner plate for added protein. Here are a few of VegKitchen's favorites, starting with Avocado and Pinto Bean Salad, an easy combo with a Southwestern flair. This goes well with vegan quesadillas and other tortilla specialties that don't themselves contain beans. more→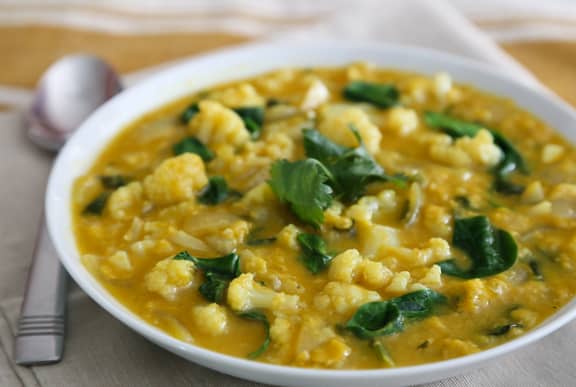 Red lentils cook quickly, so they're a good choice when you want a hearty, filling soup in little time. Adding a couple of cups of pumpkin or butternut squash puree adds to the orange-y goodness of this soup — and cauliflower and spinach contribute to its overall veggie-packed deliciousness. Serve this main-dish soup with a fresh flatbread and a simple salad. Photos by Evan Atlas.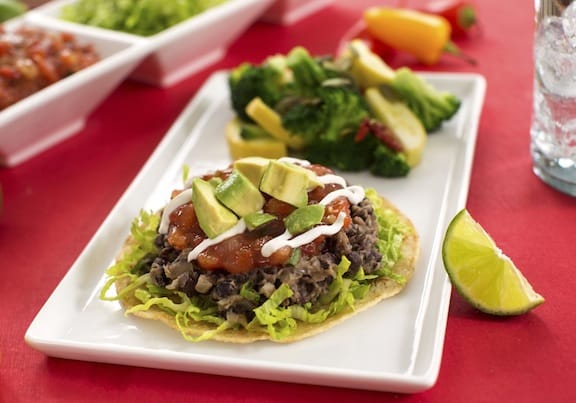 Black beans are nutritious and versatile. Here are 8 of VegKitchen's easiest recipes for these tasty beans. Let's start with Black Bean Tostadas, featuring crisp tortillas piled generously with crisp lettuce, salsa, and if you'd like, vegan sour cream. more→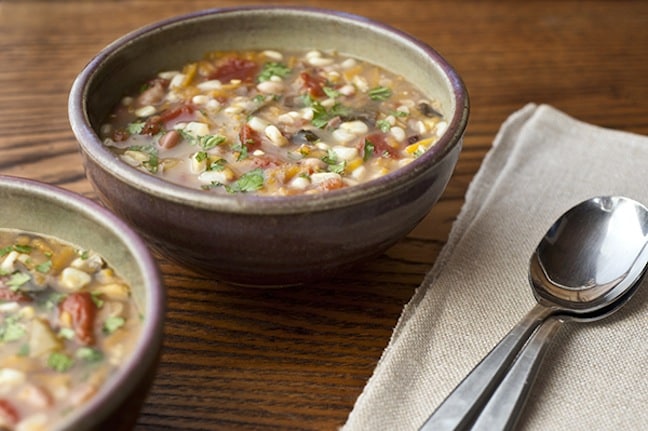 This sweet and spicy stew is a fun and unusual take on chili. And if you happen to have leftovers, it tastes even better a day or two later. Kelp may seem like an unusual ingredient here, but it has several benefits: it makes the beans more digestible, and it also contains flavor-enhancing compounds and loads of minerals and vitamins. Copyright © 2010 Gluten-Free Recipes for the Conscious Cook* by Leslie Cerier (New Harbinger, Inc). All rights reserved. Used by permission of the publisher and author.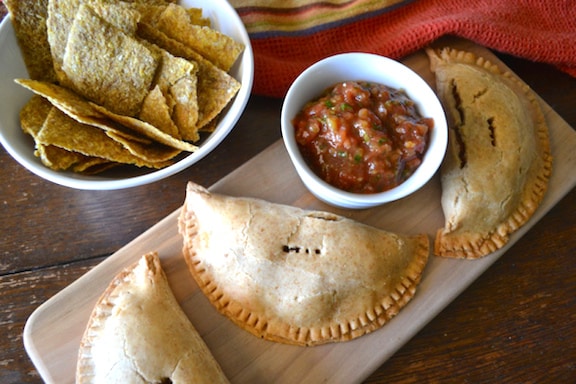 I think I could eat one of these turnovers every day for lunch and be quite happy. They have everything I love: beans, olives, sweet potato, smoky cumin and crust. Especially crust. I like to make a big batch and put half in the freezer. Serve with salsa and/or cashew sour cream if you'd like. If you're not into making your own dough, use vegan puff pastry. Or go super simple and stuff whole wheat tortillas with the warm filling. Recipe and photo contributed by Annie Oliverio.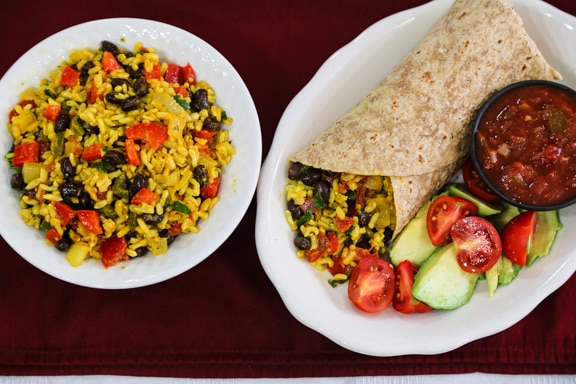 Often, rice is served alongside burritos, but the combination of rice and beans wrapped inside the tortilla is quite satisfying. These yellow rice and black bean burritos make a filling meal that needs only a salad to complete, though stoneground tortilla chips and salsa are always welcome! Photos by Evan Atlas. more→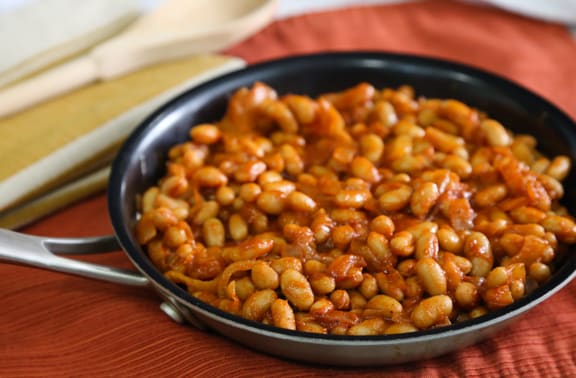 If you like the kind of vegetarian baked beans that come in a can, you're sure to love this yummy, quick homemade version even more. White beans are cooked in a skillet with a sweet and savory sauce. It's a dish that comes together quickly. For a simple meal, serve with baked sweet potatoes or a grain dish, and one of VegKitchen's slaw-style salads. Photos by Evan Atlas. more→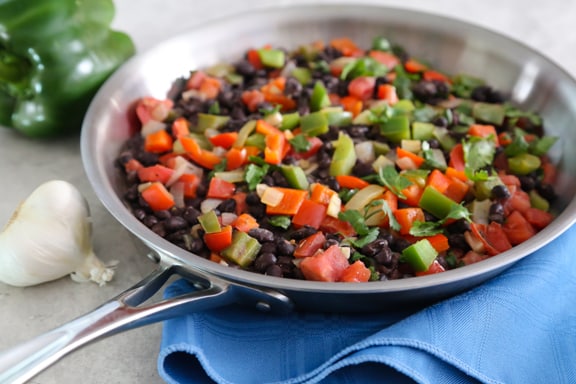 Tasty black beans are embellished with onions, garlic, and bell peppers. Sofrito,a classic Latin American dish, is a good choice for an easy, everyday kind of meal. Serve over rice if you'd like. Round the meal out with a fresh green salad and simply prepared hardy greens. Adapted from The Vegetarian Family Cookbook by Nava Atlas. Photos by Evan Atlas. more→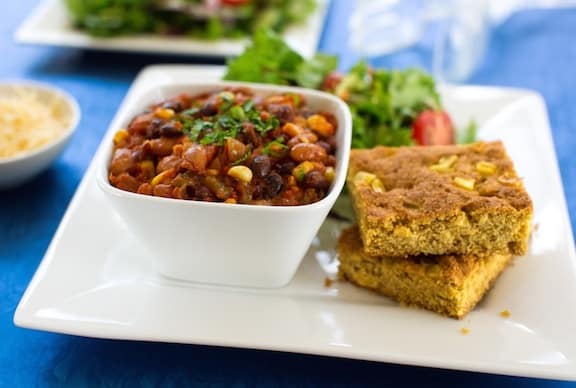 This chili recipe isn't revolutionary, but a plant-based repertoire wouldn't be complete without it. For a classic combo, serve with Corn Kernel Cornbread and a colorful salad, combining mixed greens, tomatoes, carrots, cucumbers, olives, and pumpkin or sunflower seeds. Recipe from Plant Power: Transform Your Kitchen, Plate, and Life with More Than 150 Fresh and Flavorful Vegan Recipes by Nava Atlas. ©2014, published by HarperOne, reprinted by permission. Photos by Hannah Kaminsky. more→