Asparagus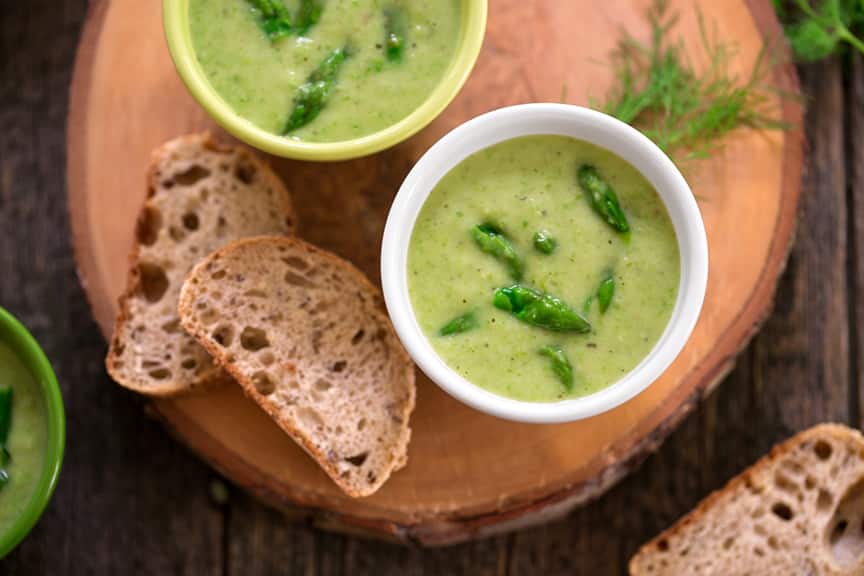 This gorgeous vegan cream of asparagus soup is a nice introduction to meals as a first course, since it's nice and light. It used to be that asparagus was primarily available in spring (and that's still when it's best and less expensive), but now that it's become more year-round, you can enjoy this soup nearly any time of year. Serve with a crusty whole-grain bread, if you'd like.
more→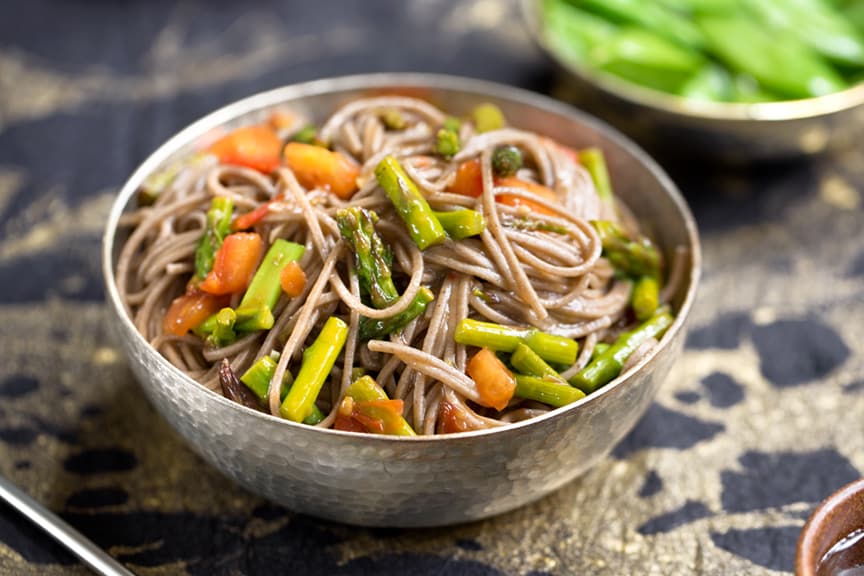 Sweet-and-sour soba noodles embellished with with asparagus and fresh tomatoes makes a lovely spring or early summer dinner dish. Serve with a simple tofu dish such as Sweet and Savory Sautéd Tofu, and a platter of raw veggies. Photos by Hannah Kaminsky. more→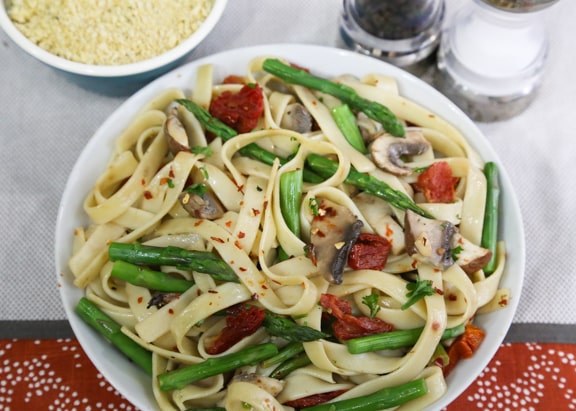 This quick Italian-style vegan pasta dish features fresh asparagus, which gives it a springtime touch, and portabella mushrooms, which makes it substantial. Try a flavored variety of linguine or fettuccine to further jazz up this dish. Photos by Evan Atlas. more→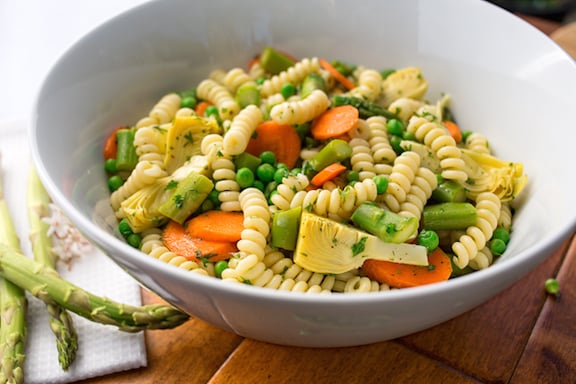 I especially like this sprightly pasta salad made with orecchiette ("little ears"), a small, delicate pasta, but you can use any short pasta shape you'd like. Use very slender asparagus and you won't need to scrape the stalks. Photos by Hannah Kaminsky. more→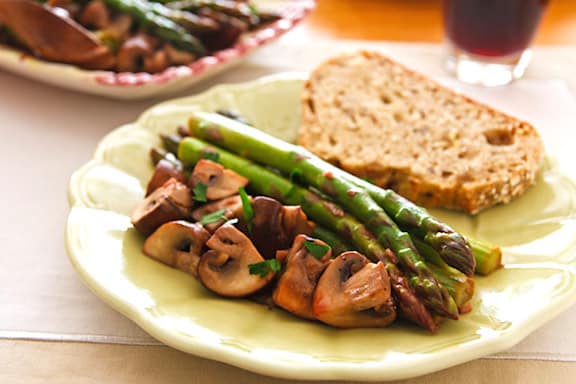 This tasty veggie appetizer is inspired by the garlicky Spanish tapas dish, champiñones al ajillo, which relies on mushrooms alone. Asparagus makes it a more substantial dish, and benefits nicely from the dry red wine and other seasonings. This is traditionally served with slices of warm, fresh bread. And since you've already opened a bottle of red wine, serve it with this appetizer as well. Recipe adapted from Vegan Holiday Kitchen. Photos by Susan Voisin.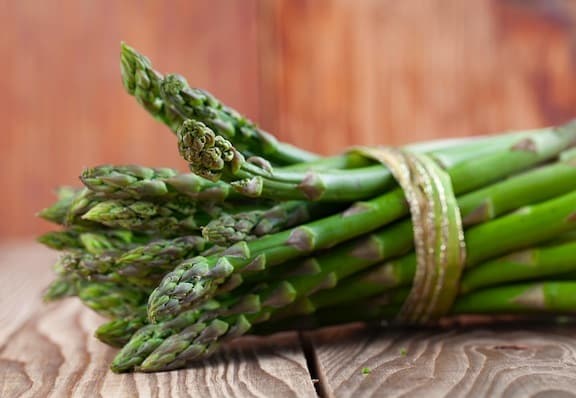 Whenever people ask what they can make a lot of easily and ahead of time for a party, this is what I suggest. It's endlessly versatile-you can vary the vegetable to go with the season, using, for example, snow peas, roasted peppers, grilled eggplant, carrot, mung bean sprouts, and fresh or dried shiitake mushrooms. Reprinted with permission from The New Vegetarian Cooking For Everyone by Deborah Madison,copyright © 2014. Published by Ten Speed Press, an imprint of Random House LLC. more→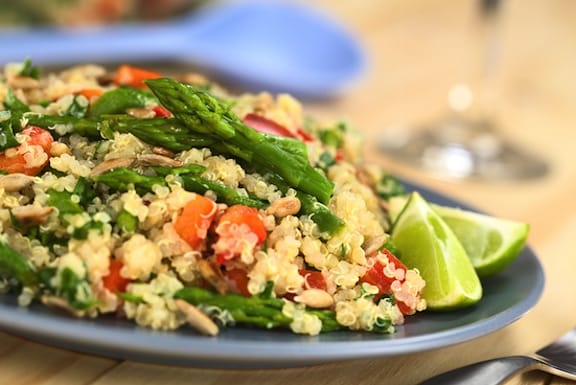 This quinoa salad keeps things very simple, highlighting this nutty grain in tandem with lots of delicious fresh asparagus. It's a lot like tabbouli, but with a springtime touch. more→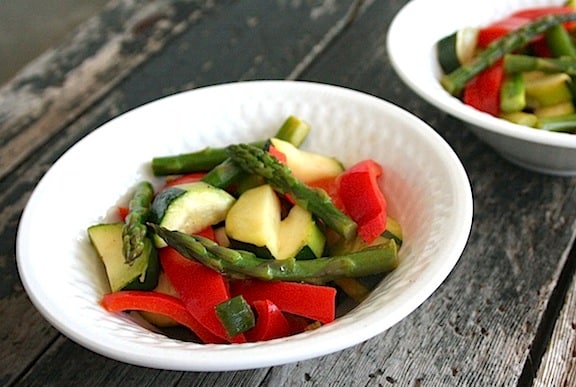 An appealing vegetable trio — asparagus, zucchini or summer squash, and red bell peppers — is enlivened by a wine-scented sauté. This colorful veggie side dish is perfect for embellishing everyday meals as well as spring holiday dinners. Photos by Rachael Braun.
more→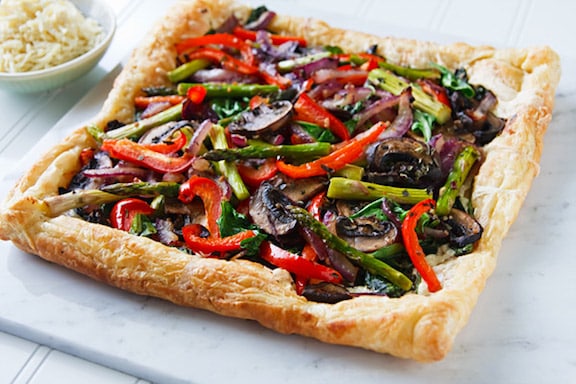 This spring vegetable tart looks like a work of art, but it's so easy to accomplish. Puff pastry isn't the healthiest item in the world, but for special occasions, it transforms simple ingredients into something fun and festive. Use a name brand (these are most often vegan, though it doesn't hurt to check the ingredients), and make sure to give it a good 45 minutes to an hour to thaw out—not less, and ideally, not much more. This makes two rectangular tarts that are easy on the cook and gorgeous to behold. Recipe adapted from Vegan Holiday Kitchen. Photos by Susan Voisin.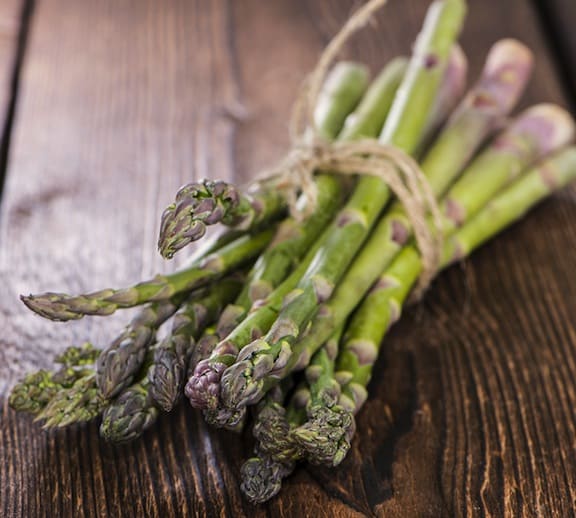 I think about this recipe all winter, as I look forward to spring. It only takes ten minutes to prepare. Recipe by Devra Gartenstein, from Local Bounty: Seasonal Vegan Recipes, by permission of The Book Publishing Company. more→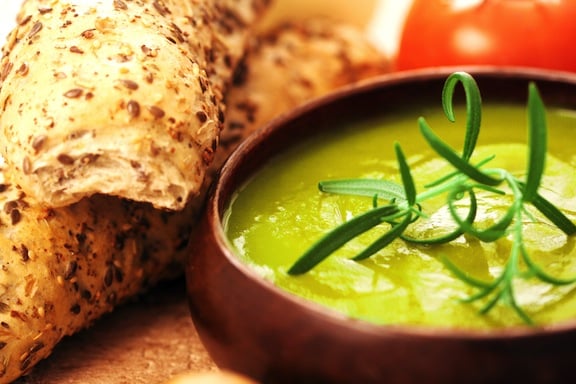 This delicate leek and asparagus soup tastes even better if made a day ahead. It's a light first course for festive spring holiday meals (Easter or Passover), or as an everyday kind of soup served with sandwiches or wraps. more→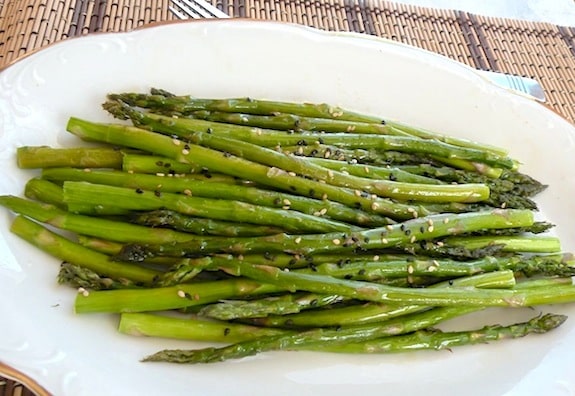 Sometimes simple can be sublime, as in the case of this basic side dish of sesame-roasted asparagus. Roasting brings out the special flavor of asparagus like nothing else can. Aside form enjoying this just as is, you can also cut the asparagus up once it's roasted, and toss into a mixed greens salad or into cooked grains.