Here's a summer pasta dish that's perfect for using all those ripe, juicy tomatoes from the garden or farm market. Teamed with artichokes, this makes a quick and tasty dinner. Serve with Summer Squash, Green Bean, and Chickpea Salad and fresh corn. Photo by Hannah Kaminsky.
Serves: 4 to 6
8 ounces rotelle or rotini (spiral) pasta
2 tablespoons extra-virgin olive oil
2 to 3 cloves garlic, minced
1 medium red bell pepper, cut into strips
1 pound very ripe tomatoes, diced
12 ounces marinated artichoke hearts (jarred or purchased by weight)
1 to 2 tablespoons red wine vinegar, to taste
12 to 16 basil leaves, sliced, or more, to taste
1 tablespoon fresh oregano leaves, or 1 teaspoon dried
Salt and freshly ground pepper to taste
Cook the pasta until al dente, then drain and transfer to a serving  container.
Meanwhile, heat the olive oil in a large skillet. Add the garlic and red pepper and sauté until the pepper has softened.
Add the tomatoes and sauté just until they have lost their raw quality; don't let them soften too much. Add the remaining ingredients and cook until just heated through.
Combine the pasta with the vegetable mixture in the serving container and toss together. This dish is best served warm or even at room temperature rather than hot.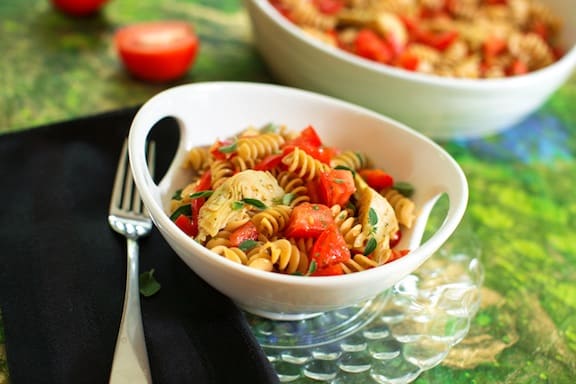 Nutrition Information:
Per Serving: 261.7 calories; 9.8g fat; 214.1mg sodium; 40.8g carbs; 4.1g fiber; 5.8g protein