In this simple quinoa pilaf, salsa verde (tomatillo salsa) makes a bold flavor statement. If you've never used it before, this green salsa variety is shelved along with the standard kinds. It has a somewhat smoky flavor that adds a distinctive character to dishes, and of course, it's also perfect as a dip for tortilla chips. Just 5 ingredients (not counting salt and pepper) add up to a super tasty quinoa dish!
Serves: 3 as a main dish, 4 or more as a side dish
1 cup quinoa (any color; we used a blend of tan, black, and red)

1 cup salsa verde (tomatillo salsa), or more to taste

3 to 4 scallions, thinly sliced

1 cup shredded vegan cheddar (pre-shredded, or grated from a block)

¼ to ½ cup chopped cilantro or parsley

Salt and freshly ground pepper to taste
1  Combine the quinoa with 2 cups water in a stir-fry pan or skillet. Bring to a slow boil, then turn down the heat, cover, and simmer until the water is absorbed, about 15 minutes. If the quinoa isn't done to your liking, add ¼ cup additional water at a time, and let it absorb.
2  Stir in the salsa, scallions, and cheddar. Cook for 10 minutes, or until it all gets toasty and the flavors blend.
3  Stir in the cilantro or parsley, season with salt (you may not need much) and pepper, and serve.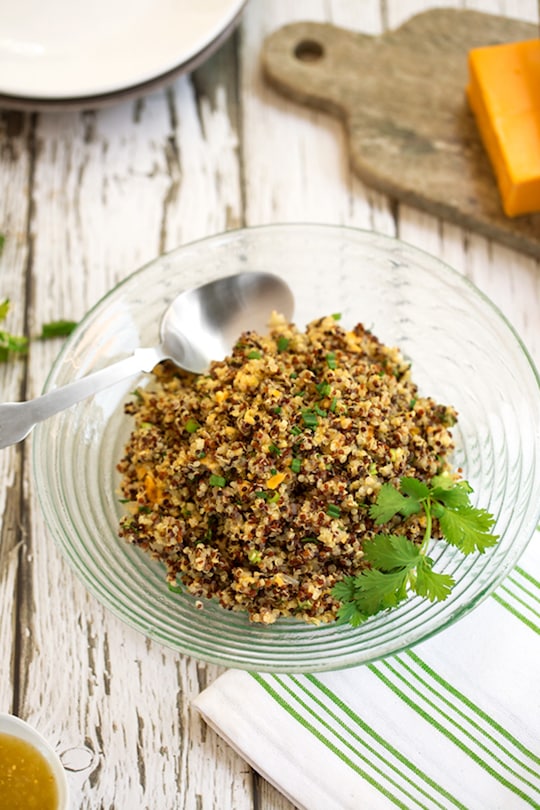 Photos: Hannah Kaminsky
Enjoy more of Vegan Food Hacks' Shameless Shortcut Recipes.