Both leeks and carrots have a natural sweetness, and so the two veggies mingle nicely. This is a mild and pleasant side dish, good with pastas as well as tofu or tempeh dishes. This tastes just as good at room temperature, almost like a warm salad, as it does hot from the skillet.
Serves: 4 to 6 as a side dish
1  tablespoon extra-virgin olive oil
¼ cup dry white wine (or substitute broth or water)
2 large or 3 medium leeks, white and palest green parts only,
cut in half lengthwise, then into half rings, and very well rinsed
4 to 5 large carrots, peeled and sliced ¼-inch thick on the diagonal
2 tablespoons minced fresh parsley or dill, or a combination, or more to taste
1 to 2 scallions, thinly sliced
1 teaspoon lemon juice, or to taste
¼ to ½ teaspoon poppy seeds, optional
Salt and freshly ground pepper to taste
Heat the oil and wine in a wide skillet. Add the leeks and carrots, cover, and cook over medium-low heat for about 8 minutes, or until tender-crisp. Stir the mixture once or twice during this time.
Uncover and turn the heat up to medium. Sauté, stirring frequently, until the leeks and carrots begin to turn golden, about 4 to 5 minutes longer.
Remove from the heat and stir in the fresh herbs, lemon juice, and poppy seeds.
Season with salt and pepper, and serve at once, or let stand and serve warm or at room temperature.
Nutrition information
Per serving: Calories: 109; Total fat: 2g;  Protein: 1g;  Carbs: 16g;  Sodium: 36 mg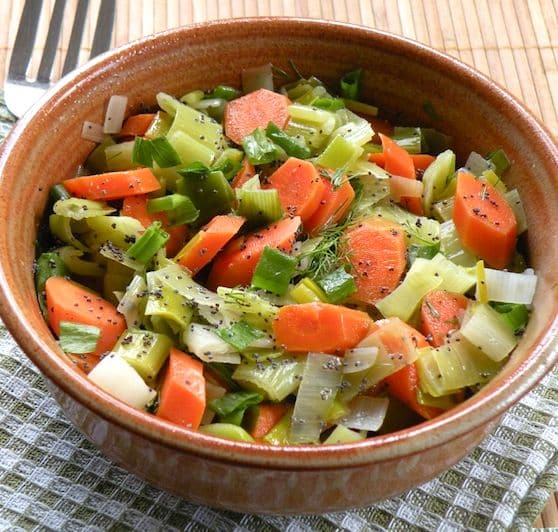 Here are more recipes for making the most of 

carrots.

Here are more recipes for 

onions, garlic, and leeks.