Now that I have a garden, though its theme is more overgrown than Italian, I'm finding a lot of inspiration from a wonderful cookbook titled My Italian Garden by Viana La Place. It's filled with simple, fresh vegetable recipes, most of which are vegetarian, and many of which are vegan or can be made so with minor adjustments.
My local CSA farm is bursting with the sweet-as-sugar Sungold tomatoes, so the time is ripe, so to speak, for this delectable little dish. I loved it as is from the book's recipe, below, but I'm also going to try a raw version tonight, minus the garlic. I can't wait to try her simple pizza dough recipe, and pile it high with tomatoes and basil from the garden!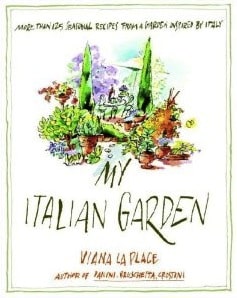 This simple recipe using plenty of sweet golden cherry tomatoes is a wonderful addition to add to your repertoire of summer vegetable dishes. The tomatoes and pungent flavor of the olives, both oil-cured black and brined green olives, wake up any appetite. From My Italian Garden by Viana La Place.
4 to 6 servings
3 tablespoons extra-virgin olive oil
1 garlic clove, coarsely chopped
½ cup coarsely chopped fresh flat-leaf parsley
2 ½ cups Sungold or other small, sweet cherry tomatoes
8 oil-cured black olives, pitted and coarsely chopped
6 Sicilian green olives, pitted and coarsely chopped
Sea salt (optional)
Place the olive oil in a medium sauté pan over low heat. Add the garlic and parsley and cook for 2 to 3 minutes, or until fragrant and glossy.
Add the tomatoes and stir 2 to 3 minutes until the tomatoes are glossy and the parsley is evenly distributed.
Stir in the olives and season with a little salt if needed. Stir gently with a wooden spoon until the tomatoes are warm through but intact. Serve warm or at room temperature.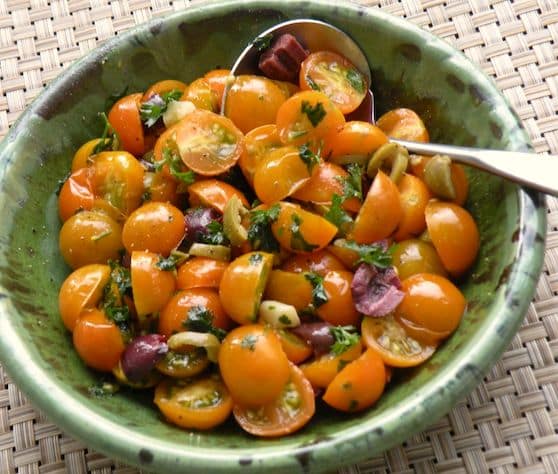 See more ways to enter Tomato Heaven.
*This post contains affiliate links. If the product is purchased by linking through this review, VegKitchen receives a modest commission, which helps maintain our site and helps it to continue growing!