With organic chia seeds, organic red palm oil, and herbs, gluten-free kasha and vegetables is transformed into a colorful side dish that is fabulous stuffed into winter squash. Recipe contributed by Leslie Cerier. Photos by Tracey Eller.
Serves: 4 to 6
3 medium or 6 small winter

squashes

(such as acorn or carnival)
2 tablespoons milled chia seeds (see Note)
2 ⅓ cups water
1 cup kasha (buckwheat groats)
½ teaspoon sea salt
2 tablespoons extra-virgin olive oil, or see Note
2 cups fresh shiitake mushrooms, stems removed and caps sliced
1 cup leeks or onions, coarsely chopped
1 cup celery, sliced
1 cup red bell pepper, coarsely chopped
1 Tablespoon fresh thyme leaves or 1 ½ teaspoons dried
2 teaspoons fresh sage, coarsely chopped, or 1 teaspoon dried
¼ cup hemp seeds
Place the milled chia seeds in a small bowl with ⅓ cup water; set aside and boil 2 cups water in a tea kettle.
Heat and melt the red palm oil in a 9-inch heavy skillet. Add mushrooms, leeks, celery, red bell peppers, kasha, chia mixture, and sea salt, and saute mixing occasionally for 5 minutes, or until the ingredients are fragrant, and well mixed. Turn off the heat.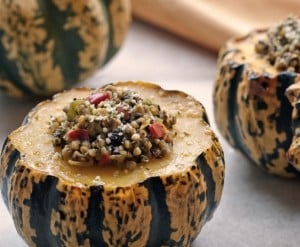 Add the boiling water, and bring the ingredients to a boil over high heat. Reduce the heat to medium low and simmer covered for 10 minutes, or until the water is absorbed. Add and stir in the thyme and sage. Taste and adjust the seasonings, if desired. Let cool briefly, and serve stuffed into baked winter squashes such as acorn or carnival, garnished with hemp seeds.
Note: Leslie developed this recipe for Nutiva, and recommends Nutiva Organic Red Palm Oil in place of olive oil, as well as Nutiva Organic Milled Chia Seeds.