Scalloping vegetables involves baking them with a light sauce and topping with bread crumbs that get all crispy and yummy. This is a simple, old-fashioned way to serve cauliflower. It's a way to serve this tasty veggie as comfort food.
Serves: 6 or more
1 large head cauliflower
2 to 3 cloves garlic, minced
2 tablespoons unbleached white flour
1 cup unsweetened non-dairy milk, such as rice or almond
½ teaspoon salt
2 tablespoons Earth Balance or other vegan buttery spread
Freshly ground pepper to taste
2 scallions, thinly sliced, optional
1 cup or so soft whole-grain bread crumbs (see note)
Paprika
Preheat the oven to 350 degrees F.
Cut the cauliflower into bite-sized pieces and florets. Place the cauliflower and garlic in a large skillet with about ½ inch of  water. Steam over medium heat until the cauliflower is tender-crisp, about 8 to 10 minutes.
Meanwhile, combine the flour with about ⅓ cup of the nondairy milk in a small bowl and whisk until smooth. Whisk in the rest of the nondairy milk and salt, plus a good few grindings of pepper, then pour into the pan with the cauliflower along with the Earth Balance. Cook just until the sauce thickens, stirring continuously.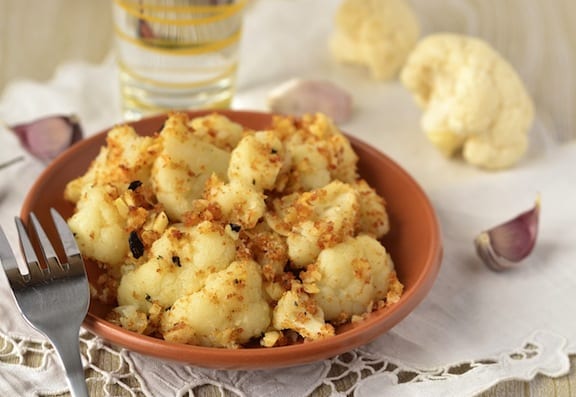 Transfer the cauliflower and sauce to a lightly oiled large shallow baking pan. Sprinkle with the optional scallions, then top with the bread crumbs and garnish with a dusting of paprika.
Bake for 20 to 25 minutes, or until the crumbs are lightly browned. Serve at once.
Note: To make your own bread crumbs, simply tear a couple of slices of bread into pieces and place in a food processor fitted with the metal blade. Pulse on and off until the bread is reduced to fine crumbs.