Here is a kinder, gentler version of gyros, the Greek meat-on-a-pita classic. Seitan makes a superb stand-in, and the shortcut creamy cucumber dressing gives the entire enterprise a refreshing zip. For heartier appetites, a serving would be 2 gyros; one is filling enough for moderate appetites or when other dishes are to be served. Recipe adapted from Vegan Express. Photos by Lori Maffei.
Makes 8; Serves 4 or 8
1 ½ tablespoons olive oil

1 large onion, finely chopped

2 cloves garlic, minced

16 ounces seitan, thinly sliced

½ teaspoon dried oregano

½ teaspoon ground cumin

1 large cucumber, peeled

Creamy Dill Dressing, or as desired (recipe follows)

8 pita breads (preferably whole grain), regular or pocketless

1 ½ cups thinly shredded dark green lettuce

3 medium plum (Roma) tomatoes, thinly sliced,




or more, as needed
Heat the oil in a medium skillet. Add the onion and sauté over medium-low heat until translucent. Add the garlic and continue to sauté until both are just beginning to turn golden.
Add the seitan and seasonings. Raise the heat to medium and continue to sauté until the seitan is golden and crisp on most sides, then remove from the heat.
Quarter the cucumber lengthwise, cut away seeds if watery, and slice. In a small bowl, combine the cucumber with the dressing and stir together.
To assemble, place 1 or 2 pitas on individual serving plates. Arrange a little lettuce over the surface of each pita, followed by the seitan, then the cucumber mixture. Arrange 3 slices or so of tomato down the center of each. Fold the pitas, and eat out of hand.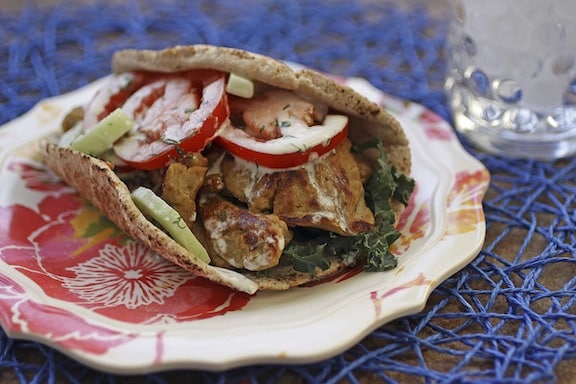 Creamy Dill Dressing
½ cup plain soy or coconut yogurt

¼ cup vegan mayonnaise

Juice of ½ lemon or 1 ½ tablespoons white wine vinegar, or more to taste

1 teaspoon all-purpose seasoning blend (such as Frontier or Mrs. Dash)

1 to 2 tablespoons finely chopped fresh dill, or ½ to 1 teaspoon dried, to taste
Combine all ingredients in a small bowl with ¼ cup water and whisk together until smooth. Transfer to a tightly lidded cruet or bottle. Shake or stir well before each use.
Nutritional Information:
Per serving (without sauce): 291.6 calories; 5.4g fat; 532.3mg sodium; 263mg potassium; 46.7g carbs; 6.9g fiber; 3.1g sugar; 18.2g protein
Creamy Dill Sauce (in one batch): 444.3 calories; 37.5g fat; 337.6mg sodium; 131.4mg potassium; 19.6g carbs; 0.8g fiber; 7.1g sugar; 2.9g protein