This very green salad has a contrast of flavors and textures, from the crunch from the snow peas to the tender raw zucchini "noodles." Though nice and light, the sesame dressing and two kinds of seeds — sesame and sunflower — give it substance.
Serves: 4
Dressing:
2 heaping tablespoons tahini (sesame paste)

Juice of ½ lemon or lime (about 2 tablespoons), or to taste

2 teaspoons agave nectar or maple syrup
2 medium zucchinis, ends trimmed

2 cups or so snow peas, ends trimmed 

1 cup or so green sprouts (like pea shoots or broccoli sprouts)

¼ cup chopped fresh cilantro or parsley

2 scallions, thinly sliced

Salt and freshly ground pepper to taste
Combine the dressing in a small bowl and whisk together. If the tahini is a bit dry, which can happen once it reaches the bottom of a jar, you may need to add a bit of water (but don't be tempted to add too much). Set aside.
Spiralize the zucchini in a spiral slicer. Place in a serving container and cut here and there to make the strands into more manageable lengths. If you don't have a spiral slicer, make zucchini into wide, flat "noodles" with a vegetable peeler, doing so into a serving container.
As for the snow peas, if you like them raw, simply add them to the zucchini in the bowl. Personally, I like them just barely steamed or blanched, which brings out their color and crunch. If you do so, make sure to rinse them under cool running water once done, to stop the cooking process and to bring them to room temperature. Drain well.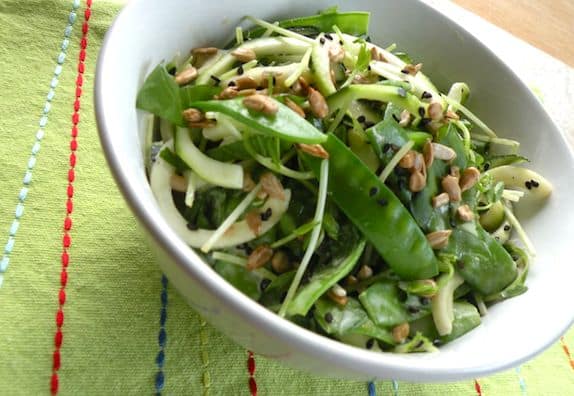 Add the sprouts, cilantro or parsley, and scallions and stir together. Pour in the dressing and stir again. Let the mixture stand for at least a half hour.
Stir again and then flavor to your taste — add a bit more tahini (if it's nice and runny), lemon or lime juice, and agave or syrup. Finally, season with salt and pepper, then serve.