Serve this richly flavored vegan shiitake-miso gravy over sautéed tofu or tempeh, or to dress up mashed potatoes or green vegetables. Photos by Evan Atlas. 
Makes: about 2 cups
1 cup prepared vegetable broth or water

2 cups thinly sliced fresh shiitake mushroom caps

 

(about 2 to 3 ounces)

1 to 2 teaspoons minced fresh or jarred ginger, to taste

1 teaspoon dark sesame oil

1 ½ tablespoons arrowroot cornstarch

2 rounded tablespoons miso, any variety

Freshly ground pepper to taste
Combine the broth, mushrooms, ginger, and oil in a small saucepan. Bring to a rapid simmer, then cover and simmer gently for 5 to 7 minutes.
Combine the cornstarch in a small container with just enough water to dissolve. Whisk into the saucepan and cook just until the gravy thickens. Remove from the heat.
Combine the miso with ¼ cup warm water in a small container and whisk until smooth. Stir into the gravy. Season with pepper and serve at once, or cover and heat through just before serving. To preserve the beneficial enzymes in the miso, don't let it come to a boil.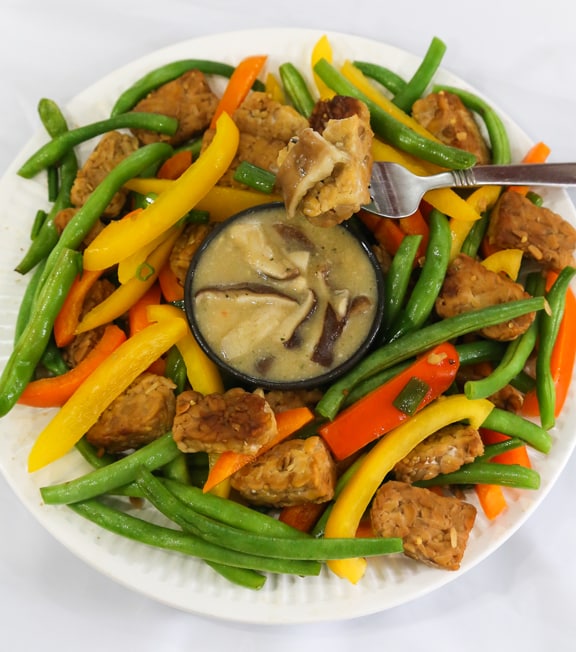 Nutrition Information: 
Per ¼ cup: 29 calories; 1g fat; 280mg sodium; 3g carbs; 0g fiber; 1g protein