A vegan shepherd's pie is a wonderful choice as a holiday centerpiece — especially Thanksgiving and Christmas — or as a dish to take to a potluck. To prove the point, our Lentil and Mushroom Shepherd's Pie is one of our most popular recipes. And though it isn't at all difficult, judging by how many people have made it and served it, it's admittedly a bit of a project. For holidays and special occasions, that's fine — we like to pull out all the stops and put our best foot forward.
But these days, we'd like to cater to the extremely time-crunched (and okay, the very lazy) who'd like to make and share such satisfying dishes, so here's a brilliant shortcut vegan shepherd's pie, which cuts out the most time-consuming step — peeling, dicing, cooking, and mashing the traditional potato topping. Instead, we'll use frozen cauliflower and just whip it up in a food processor or blender. Using lentil soup instead of plain canned lentils adds more flavor.
Another perk is that, much as we love potatoes, this makes for a lightened-up version with a lot of pared-down prep — it's also oil-free. And of course, if you need it to be gluten-free, use GF breadcrumbs.
Serves: 8 or more
What you need
1 ½ cups bread crumbs, preferably whole grain
For the filling
3 to 4 scallions, thinly sliced

1 cup stemmed and sliced brown or shiitake mushrooms

Two 15-ounce cans vegan lentil-vegetable soup, lightly drained

1 tablespoon seasoning blend (like Frontier or Mrs. Dash)

¼ cup spelt, garbanzo, or unbleached flour

Two or three big handfuls baby spinach

Salt and freshly ground pepper to taste
For the topping
Two 16-ounce bags cauliflower florets, completely thawed

1 cup vegetable broth

Salt to taste
What to do
1  Preheat the oven to 425º F.
2  Lightly oil a large shallow baking dish. Line the bottom with a layer of bread crumbs, about ¼ inch in depth.
3  In a large skillet or stir-fry pan, combine the scallions and mushrooms. Cook over medium heat until they're both slightly wilted.
4  Add the lightly drained soup and seasoning blend to the pan and bring to a simmer. Sprinkle in the flour, a little at a time, and stir in to blend.
5  Add the spinach, then cover and cook until it's just wilted down. Season with salt and pepper, then transfer this mixture to the baking dish, spreading it evenly over the bread crumbs.
6  Combine half of the cauliflower and half of the broth in a blender and process until completely smooth. Pour over the lentil mixture in the baking dish and repeat with the other half. Pour that over the lentil mixture as well, and then smooth the cauliflower topping over the surface gently so that it covers evenly.
7  Bake for 30 to 40 minutes, or until the cauliflower topping becomes golden and crusty. Remove from the oven and let stand for 10 minutes or so before cutting in to squares to serve.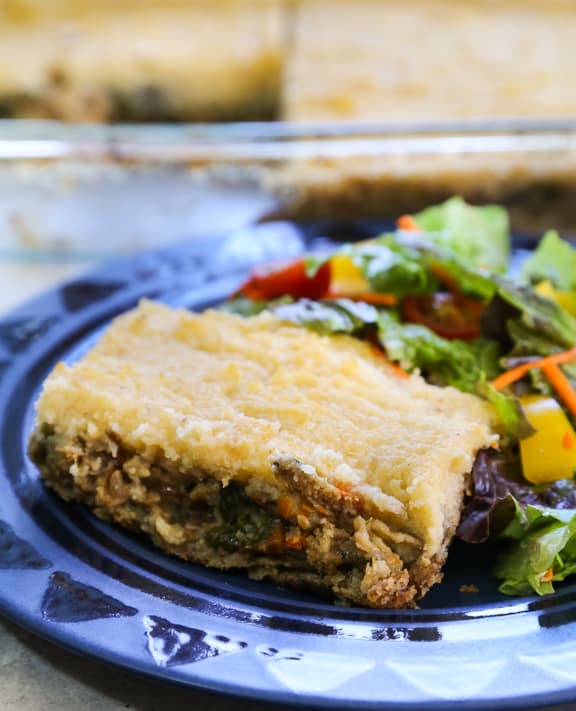 Photos: Evan Atlas