Here are some easy ways to prepare common summer veggies—flash-in-the-pan side dishes that enhance their already vivid flavors. Use organic vegetables whenever possible, though to save money, consult the Environmental Working Group's list of Clean 15 produce that is safe to use in conventional form. Formal recipes aren't needed! Use what you've got, make as much as you need, and keep these ideas in mind for making easy accompaniments to meals all year round.
ASPARAGUS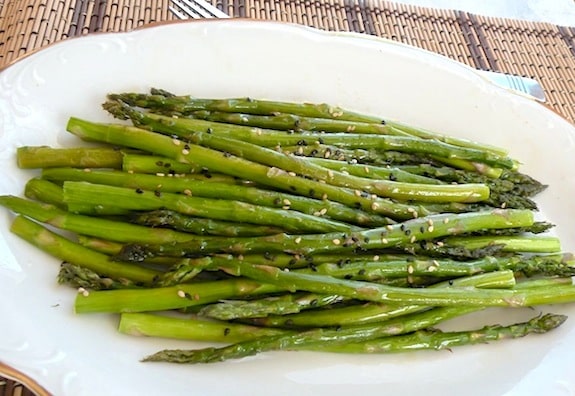 Roasted Asparagus with Sesame Seeds and Sesame Oil: For roasting, I prefer medium rather than slender spears, so that they don't dwindle to nothing. Trim off about an inch from the bottoms, then scrap the bottom halves of the spears. Arrange the spears on a lightly oiled baking pan and drizzle with sesame oil. Sprinkle with sesame seeds. Roast at 400º F in the oven or toaster oven until tender and lightly browned, stirring occasionally, about 10 to 15 minutes. Explore more asparagus recipes.
BELL PEPPERS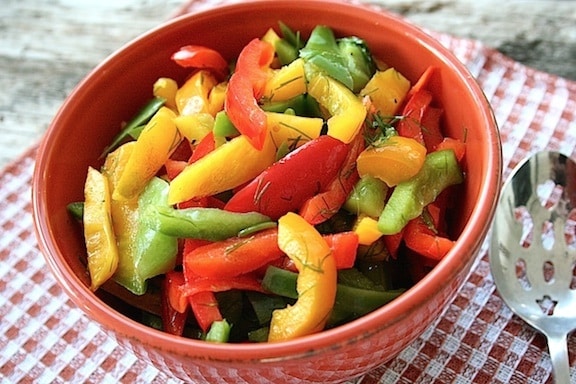 Bell Pepper Medley: When multi-colored bell peppers (preferably organic) are available at a good price, simply combine 3 or 4 of different colors, cut into strips. Dress in a vinaigrette and toss with fresh herbs. We have lots more ways to use bell peppers!
BROCCOLI and CAULIFLOWER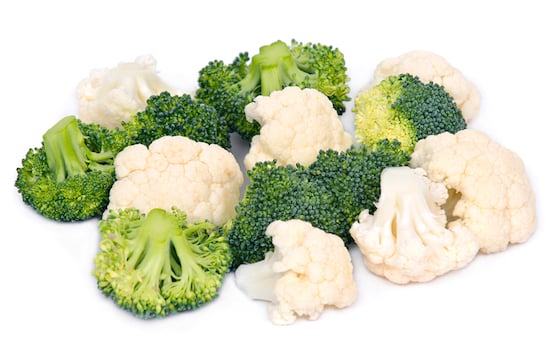 Steamed Broccoli with Cauliflower: I often just steam these two cruciferous veggies together, especially when I have just one crown of broccoli and half of a cauliflower left in the fridge. To finish, drizzle in a little olive oil and season with salt and pepper. Here are more ways to use broccoli and cauliflower.
BRUSSELS SPROUTS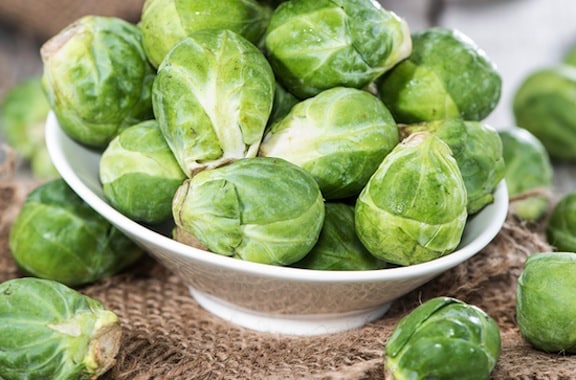 Steamed Brussels Sprouts with Sunflower or Pumpkin Seeds: This is a good one to make when you don't feel like turning on the oven to roast a few brussels sprouts (which seems like everyone's favorite way to prepare them) This is a good and quick way, too.
Trim the stem ends of brussels sprouts, cut them in half, and steam just until bright green and tender to your liking. Please don't overcook them! Drain and toss with a little olive oil, then sprinkle with as many sunflower or pumpkin seeds as you'd like. If you like this, you'll love this entire category dedicated to brussels sprouts.
CABBAGE (Green)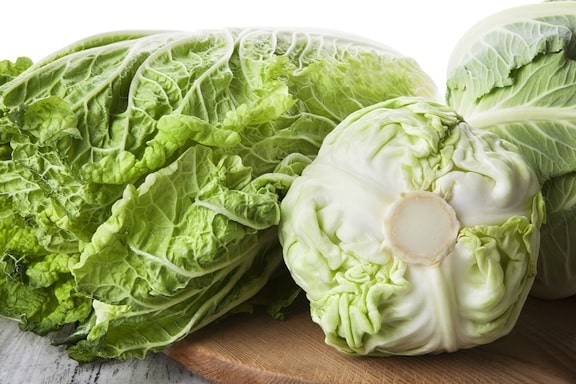 Sautéed Cabbage and Onions: This is an ideal way to use up that portion of a green cabbage languishing in the fridge, while it still has some flavor. For this, you can use about half of a cabbage.
In a large skillet or stir-fry pan, sauté a quartered and thinly sliced onion in some olive oil. When it starts to turn golden, stir in thinly sliced cabbage. Cook, covered, until the cabbage wilts. If the pan dries out, add just enough water to moisten. Once the cabbage is wilted, uncover and cook until both it and the onion begin to brown, stirring frequently. Add a sprinkling of poppy seeds, if you'd like. Here are more ways to use cabbage and lettuces beyond salads.
CARROTS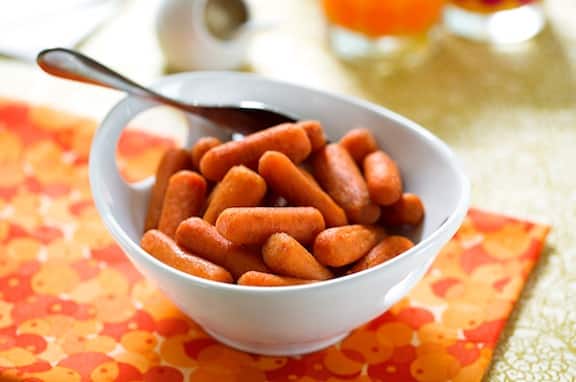 Sweet Cinnamon-Roasted Baby Carrots: Combine a 16-ounce bag of baby carrots with maple syrup to taste and a little olive oil and cinnamon, toss, and roast in a 400º F. oven or toaster oven for about 20 minutes, or until tender. Enjoy lots more ways to use carrots.
CORN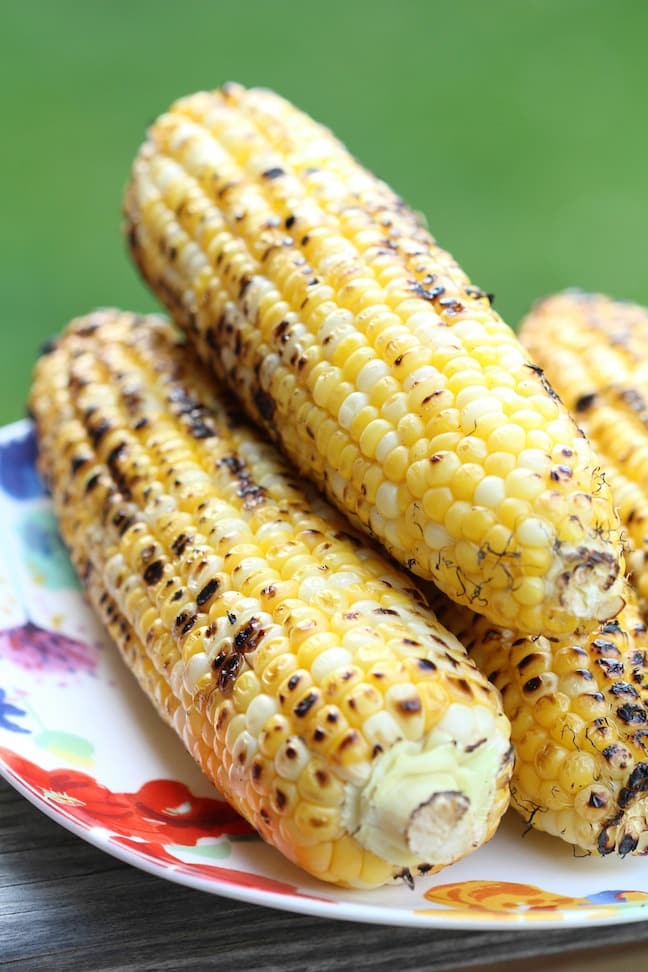 Grilled Corn: What could be simpler or better? Put your corn right on the prepared outdoor grill or grill pan, and turn every couple of minutes until lightly browned on all sides. We have recipes for fresh corn in abundance!
GREEN BEANS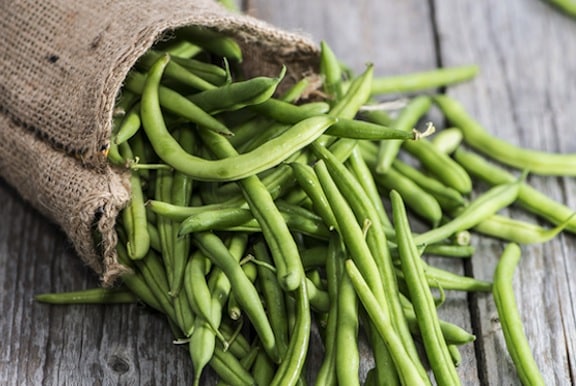 Green Beans Teriyaki: Fresh slender green beans work best for this, but if you're in a hurry, use frozen organic whole baby green beans, completely thawed. Heat a little oil, prepared teriyaki sauce, and a pinch of natural granulated sugar in a stir-fry pan, add the green beans, and stir-fry over medium-high heat until nicely browned. If you'd like, rev up the flavor with chopped garlic, ginger, and/or fresh chili pepper. Here are lots more ways to use green beans.
POTATOES and SWEET POTATOES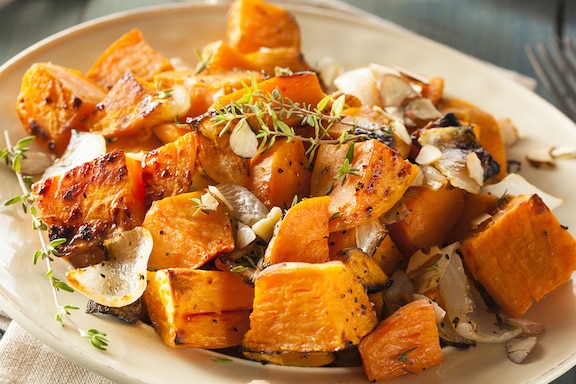 Sautéed Paprika Potatoes: Cook or microwave as many potatoes or sweet potatoes as you'd like until done but still firm. Plunge into a bowl of ice water. When cool enough to handle, peel and slice. Sauté in a small amount of olive oil. When the potatoes begin to turn golden, add sliced garlic or scallion and your favorite fresh or dried herbs. Continue to sauté until the potatoes brown lightly. Here are more recipes for potatoes and sweet potatoes.
SPINACH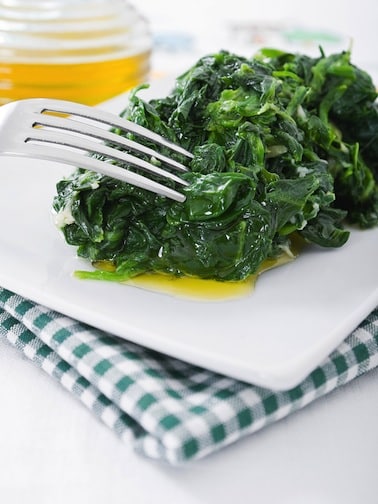 Wilted Sesame spinach: Use at least 10 to 12 ounces (a pound is even better) of fresh baby spinach. Wilt the rinsed leaves in a skillet or stir-fry pan for a minute or so, then stir in a little olive oil and season with salt and pepper. Fall in love with more of our easy spinach recipes.
ZUCCHINI AND/OR YELLOW SUMMER SQUASH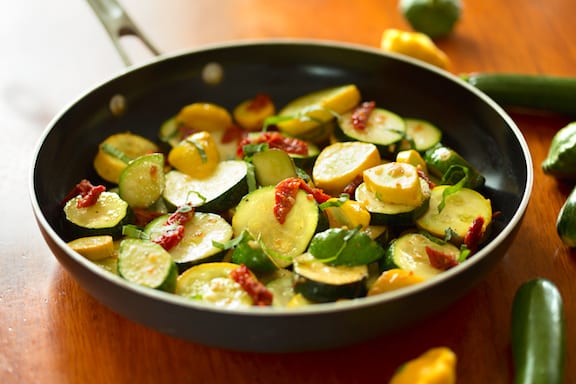 Zucchini and summer squash sauté: For an easy side dish, I like to combine zucchini and yellow summer squash, cut into approximately 3-inch spears, and sauté them in olive oil  until golden. For extra flavor, add sliced basil leaves and sun-dried tomatoes. We have lots more recipes for zucchini and summer squash for you to enjoy.