Going vegan no longer means having to give up cheesecake! Sirabella's Vegan Cheesecake recently sent VegKitchen their dairy-free, egg-free, completely luscious New York-style cheesecake to sample, and it is out of this world. We all enjoyed it immensely — at last, a vegan cheesecake with the look, taste, and texture of traditional cheesecake, with a fraction of the calories and none of the guilt.
This compact and creamy cheesecake is based on 12 servings. At about $3.50 per serving, that's a great value. Since it's so dense and filling, we got about 16 servings out of it. Sirabella's has offered a coupon code for 10% off to VegKitchen readers, bringing the per serving price down even further. Just add the coupon code 10VK at checkout.
Compare the nutritional stats of Sirabella's with that of Cheesecake Factory. Quite an eye-opener!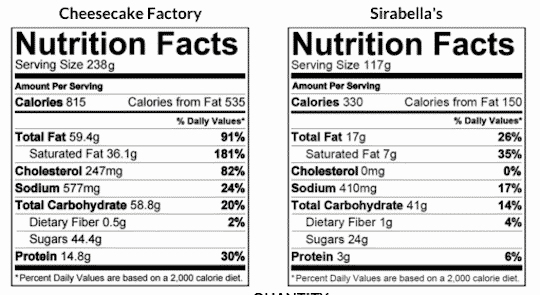 For just a few dollars more, there are a number of embellished cheesecakes — chocolate, strawberry, cherry, blueberry, and raspberry. Fruit is a lovely enhancement. We got ours straight-up, but nearly always served it with sliced apple or pear.

This is a great gift for Valentine's Day, Mother's Day, Father's Day, or really, any time you want to serve something special to guests or your own family. Explore all the options on the Sirabella's website. Delivery is available anywhere in the U.S.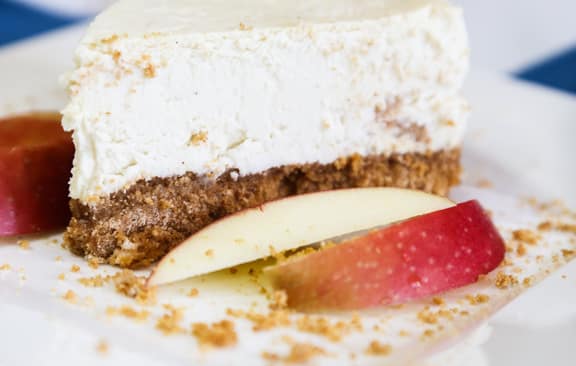 Disclaimer: Sirabella's provided a gratis cheesecake for VegKitchen to sample. We receive products to sample regularly, but only review those we think our readers would love. VegKitchen received no compensation for this review.