This hearty pasta dish featuring broccoli and red beans, flavored with miso, is a sturdy, everyday dish, fusing Italian and Asian flavors. You can use any kind of small red bean, but adzuki beans are especially good in this. You're less likely to find them in cans, but they don't take as long as other bean varieties to cook. Photos by Evan Atlas.
Serves: 4 to 6
8 ounces spiral pasta (rotini or rotelle)
2 tablespoons extra-virgin olive oil
1 large onion, quartered and thinly sliced
2 cloves garlic, minced
2 good-sized broccoli crowns, cut into bite-sized pieces
2 large ripe tomatoes, diced
1 ½ to 2 cups cooked or one 15- to 16-ounce can
(drained and rinsed) small red or kidney beans
1 to 2 teaspoons freshly grated ginger
2 to 3 tablespoons miso, or to taste (I like to use mellow white in this)
1 ½ tablespoons arrowroot or organic cornstarch
1 cup warm water
1 teaspoon dark sesame oil
Freshly ground pepper and/or dried hot red pepper flakes to taste
Cook the pasta in plenty of rapidly simmering water until al dente, then drain.
Meanwhile, heat the oil in a large skillet; sauté the onion over medium heat until golden.
Add the garlic and broccoli; sauté, covered, until the broccoli is bright green, about 2 minutes. Add the tomatoes, red beans, and ginger. Simmer over low heat for 10 minutes, or until the broccoli is tender-crisp. Don't let it get overcooked!
In a small bowl, whisk together the miso, arrowroot or cornstarch, and water until smooth. Pour into the skillet along with the sesame oil.
Simmer gently until the miso mixture has thickened, about 1 to 2 minutes longer. Stir in the pasta, season with pepper and/or red pepper flakes, and serve.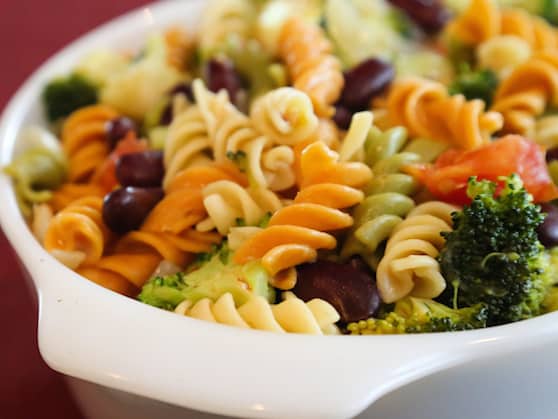 Here are more: