Twice-baked potatoes (also known as stuffed potatoes) seem like they'd be an easy thing to prepare for quick meals. They look so enticing, and have "comfort food" written all over them. But if you're preparing them for several people, the process can be a bit tedious. Let's say you start with 4 or 6 big potatoes. You have to neatly scoop out 8 to 12 halves, leaving not too thin or thick a shell. Then, you need to mash and combine the scooped-out flesh with other prepped and cooked ingredients.
The resulting mixture must then be stuffed neatly back into the potato shells (with the hope that you didn't add in too many or too few additional ingredients). And finally, it all needs to be heated up in some way, hence, "twice baked."
Smashed potatoes are far easier to accomplish. The nooks and crannies created by smashing readily accommodate all manner of toppings. There's no need for measuring or mixing, nor to be particularly neat. Sweet potatoes are just as good for smashing as white or golden potatoes — perhaps even better, with their smooth, malleable flesh. You may want to reheat the completed smashed potatoes just before serving, especially if you need to melt vegan cheese. Here are the basic steps:

Use large potatoes (golden potatoes are my favorite for this, though russets work, too) or sweet potatoes, allowing one half to one whole potato per person, depending on what else is being served. Scrub the potatoes well, because you'll be serving them on the plate with their skins. Of course, you can eat the skins if the potatoes are organic and you can get the skins really clean.
Bake or microwave the potatoes until easily pierced with a fork. Cut the potatoes in half lengthwise. Arrange cut side up on a platter or in a baking dish, depending on whether you'll be reheating in the microwave or in the oven. Or, if you're making this just for one, simply arrange on a heatproof dinner plate.
Smash each half with a potato masher or large fork, nearly all the way through. Some large potatoes, like russets, are a bit mealy, so drizzling a bit of rice milk over their surfaces before adding the toppings can improve the consistency. You can add extra richness by working some vegan buttery spread into the nooks (about ½ teaspoon per potato half is sufficient).
Now the fun begins — arrange toppings generously on each potato or sweet potato half. Finally, if need be, reheat in the microwave or in a 350º F oven before serving. Here are some ideas to get you started; you can make a meal for one or several. Having your potatoes or sweet potatoes pre-baked means you can make a nearly-instant meal, just when you need it.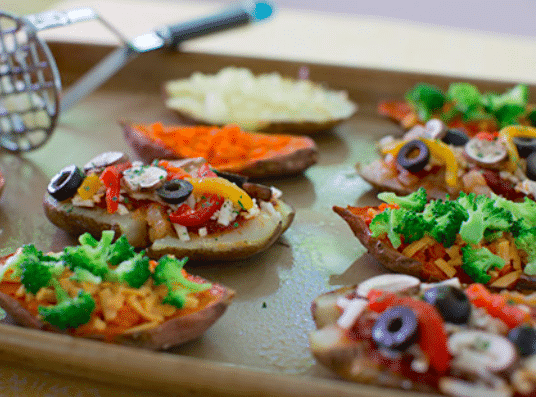 Broccoli and Cheddar
Sprinkle grated vegan cheddar cheese over the surfaces of the smashed potatoes, followed by finely chopped and steamed broccoli florets. For a nice flavor boost, top with a sprinkling of scallions, chopped black olives, or sun-dried tomatoes.
Mushroom and Wilted Spinach
Clean and slice a few brown mushrooms (shiitake, baby bella, or cremini) and place in a skillet with a small amount of water — just enough to coat the surface. Cover and cook until done to your liking. Depending on how many potatoes you'd like to top, add baby spinach (or you can use baby arugula) to the skillet in batches, then cover and cook each time until just wilted. Season gently with salt and pepper. Use a little of the liquid that has formed in the skillet to moisten the potatoes' surfaces, then top with the mushroom and spinach mixture. If you'd like, add a zigzag of sriracha sauce as a final flourish.
Mushroom Gravy and Parsley
Pour on our Easy Mushroom Gravy or your own favorite recipe; top with a generous sprinkling of minced fresh parsley. Such comfort!
Chili smashed potatoes
Simply used leftover chili. Have it just as is or top with cilantro, a dollop of salsa, and/or a sprinkling of vegan cheddar cheese. This is excellent on sweet potatoes as well as golden potatoes.
Pizza smashed potatoes
Using potatoes instead of a bread-based pizza can become a family-style favorite. Simply spoon some marinara sauce over the surface of the potatoes, followed by a sprinkling of mozzarella-style grated vegan cheese. Then pile on your favorite pizza-compatible veggies (finely chopped and lightly steamed) — any combination of broccoli florets, mushrooms, bell peppers, eggplant,  zucchini, or olives. Finish with a dusting of dried oregano. Here's a more specific recipe for Pizza Potatoes.
More ...
Use other veggies you've got in your crisper. Leeks, kale, collard greens, green cabbage — any of these, solo or paired up, can make great toppings for smashed potatoes. Embellish with a spicy or nutty sauce.
Adapted from Plant Power: Transform Your Kitchen, Plate, and Life with More Than 150 Fresh and Flavorful Vegan Recipes by Nava Atlas, from which this was adapted (©2014, published by HarperOne, reprinted by permission). Photos by Hannah Kaminsky.