An easy bean burger with a little crunch from sunflower seeds and a subtle smoky flavor, these work well with pink, pinto, or red beans. Make some potato oven fries or sweet potato oven fries at the same time, and serve with your favorite condiments in pita bread or on whole grain buns. 
Makes: 6 large burgers or 12 sliders
⅓ cup oatmeal (quick-cooking oats)

¼ cup plus 2 tablespoons sunflower seeds

15- to 16-ounce can red, pink, or pinto beans, drained and rinsed

½ green bell pepper, finely diced 

2 scallions, thinly sliced 

½ cup wheat germ or hemp seeds

2 teaspoons salt-free all-purpose seasoning (like Frontier or Mrs. Dash)

1 teaspoon chili powder

1 to 2 teaspoons smoked paprika or mesquite seasoning (see note)

1 tablespoon olive oil

2 tablespoons nutritional yeast, optional

Salt and freshly ground pepper to taste
To serve:
Whole grain buns, English muffins, or pita breads

Lettuce leaves, baby spinach, and/or sliced tomatoes

Your favorite condiments (ketchup, mustard, vegan mayo, sriracha, etc.)
Preheat the oven to 400 degrees F.
Combine the oatmeal and ⅔ cup boiling water in a cup. Let stand until needed.
Place ¼ cup of the sunflower seeds in a food processor, and set aside the 2 tablespoons. Pulse on and off until coarsely chopped. 
Add the beans, bell pepper, scallions, wheat germ or hemp seeds, seasonings, olive oil, and optional nutritional yeast.to the food processor. Pulse on and off until the mixture is finely and evenly chopped. Don't puree!
Add the oatmeal and remaining sunflower seeds along with a little salt and a few grindings of pepper, and pulse a few times to blend into the mixture, 
Line a baking sheet with parchment paper. Coat the inside of a round ½-cup measuring cup (for large burgers) or ¼-cup measuring cup (for sliders) with a little oil or cooking oil spray.
Spoon some of the bean mixture into the measuring cup, filling it but not packing too firmly; invert it onto the parchment (giving it a sharp tap to release the mixture). Using the bottom of the measuring cup, flatten into a ½-inch- thick burger.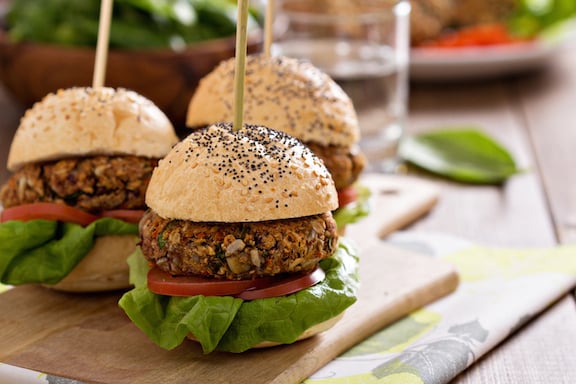 Repeat with the remaining bean mixture; you should wind up with 6 regular size burgers or 12 smaller sliders.
Bake for 15 minutes, then carefully flip each burger and bake an additional 15 minutes, or until golden and firm on each side. Remove from the oven and serve the burgers on their own or with the bread and/or condiments of your choice.
Note: Look for smoked paprika or mesquite seasoning in any supermarket spice aisle. Mesquite seasoning is particularly nice in this; you'll find it shelved with grilling seasonings. You can also substitute liquid smoke seasoning if that's what you have on hand.