Sorghum is one more healthful, hearty ancient grain that's making a big comeback, like what happened with quinoa, farro, and einkorn. Because of sorghum's small size, mild flavor, and interesting texture, it's a perfect grain for a warm cereal. This sorghum breakfast bowl is sure to please.
Despite its incredibly good-for-you nutrition profile, sorghum is a bit on the bland side, so boosting it with tasty ingredients is a must! In this breakfast bowl, we cooked it up the already cooked grain in some vanilla almond milk, and topped it with fruit, granola, and coconut yogurt. In all, a fantastic way to start the day!
Make sure to cook the sorghum ahead of time; despite its diminutive size, it takes a good 40 to 50 minutes to cook. Cook extra so you have some to use as a dinner grain as well.
Serves: 1 (recipe multiplies easily for more servings)
1 cup cooked sorghum (see cooking note)

½ cup almond milk

1 tablespoon maple syrup or agave nectar, or to taste

½ medium apple, cored and diced

½ small banana, sliced

¼ cup granola, any variety

Coconut yogurt, as desired

Cinnamon
Combine the cooked sorghum with the almond milk and syrup in a small saucepan. Heat gently until nice and warm.
Transfer to a shallow bowl and arrange the apple, banana, and yogurt on the surface. Sprinkle with cinnamon and enjoy.
Cooking notes:

To cook simply combine rinsed sorghum in a saucepan in a 1-to-3 ratio with water, for example, 1 cup sorghum to 3 cups water. Bring to a slow boil, then lower the heat and simmer until the water is absorbed, 40 to 50 minutes. If the grain isn't cooked to your liking, add another ½ cup water and continue to simmer until absorbed.

You can also cook sorghum more quickly in a pressure cooker.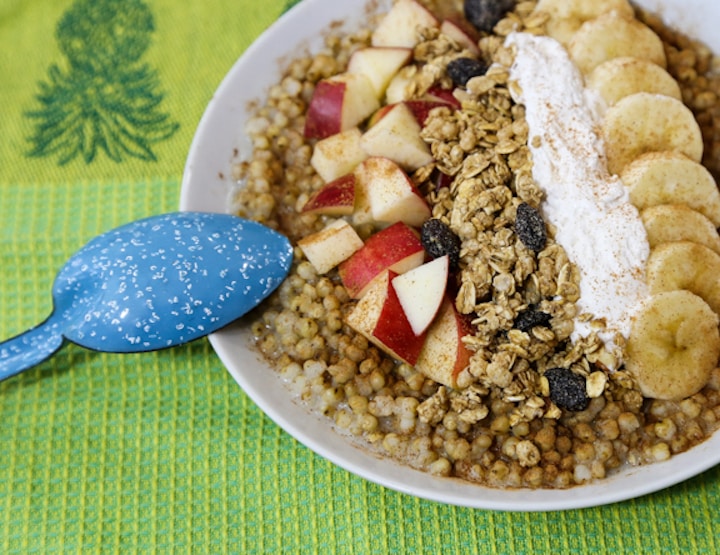 Photos: Evan Atlas