Broccoli, cauliflower, green beans, and peppers mingle in a rich coconut–peanut base, making a stew that's great all year round. Adapted from Vegan Soups and Hearty Stews for All Seasons. Photos by Theresa Raffetto.
Serves: 6
2 tablespoons arrowroot or cornstarch
14-ounce can light coconut milk
½ cup Thai peanut sauce or natural smooth peanut butter
Juice of 1 lime
2 tablespoons natural granulated sugar
3 to 4 ounces fine rice noodles or bean-thread noodles
1 tablespoon light olive oil
1 medium onion, finely chopped
3 cloves garlic, minced
3 cups bite-sized broccoli florets
3 cups bite-sized cauliflower florets
2 cups fresh slender green beans, trimmed and cut in half (see Note)
1 large red bell pepper, cut into narrow 2-inch strips
1 to 2 fresh chilies, to taste, seeded and minced (see Note)
Garnishes (optional):
Chopped peanuts
Sliced scallions
To make the sauce, combine the cornstarch with just enough water to dissolve in a medium-sized mixing bowl. Whisk until completely dissolved. Add the coconut milk, peanut sauce or peanut butter, lime juice and sugar, and whisk together until smooth. Set aside.
Cook the noodles according to package directions until al dente, then drain and cut into shorter lengths.
While the noodles are cooking, heat the oil in a soup pot. Add the onion and sauté over medium-low heat until translucent. Add the garlic and continue to sauté until both are golden.
Layer the broccoli, cauliflower, green beans, bell pepper, and chilies in the pot without stirring them in. Pour in 1 cup water. Bring to a rapid simmer (you'll hear it rather than see it), then lower the heat. Cover and cook for 8 to 10 minutes, or until all the vegetables are tender-crisp.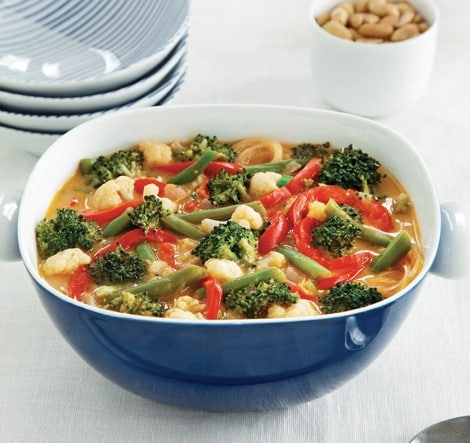 Add the sauce to the soup pot and stir everything together well. Bring to a gentle simmer and cook for 5 to 10 minutes longer, uncovered, or until the sauce has thickened and the vegetables are just a bit more done than tender-crisp.
Place a small amount of noodles in the bottom of each serving bowl and ladle some of the stew over them. If you wish, garnish with chopped peanuts, sliced scallions, or both.
Nutrition information
Per serving:  Calories: 208;  Total fat: 8g;  Protein: 5g;  Fiber: 5g;  Carbs: 33g;  Sodium: 62 mg
NOTES:
If fresh slender green beans are unavailable, substitute frozen. Try organic petite whole green beans for a nice effect.
Red pepper flakes, Sriracha, or other hot sauce can be substituted for fresh chilies. Start with ½ teaspoon and add more to taste if you want a spicier effect.