While fresh local corn is abundant in early fall, the most tempting way to eat it is right off the cob. But cooking with fresh corn can be equally appealing. Its sweetness and crunch can't be matched by frozen corn kernels.To vary the recipe, add a cup or two of cooked pinto or pink beans and serve with a purchased fresh bread. Adapted from Vegan Soups and Hearty Stews for All Seasons. Photos by Evan Atlas. 
Serves: 6
1 tablespoon extra-virgin olive oil
1 large onion, chopped
2 to 3 cloves garlic, minced
4 to 5 medium ears fresh corn
2 medium ripe tomatoes, diced
15- to-16-ounce can pureed or crushed tomatoes
2 small yellow summer squashes, cut into ¾-inch diced
1 ½ to 2 cups fresh slender green beans, trimmed and cut into 1-inch lengths (see Note)
1 to 2 fresh mild chili peppers, seeded and minced (such as Anaheim or poblano)
2 teaspoons ground cumin
¼ to ½ cup finely chopped fresh cilantro
Leaves from several sprigs fresh oregano, optional
Salt and freshly ground pepper to taste
Dried hot red pepper flakes or picante sauce, optional
Heat the oil in a soup pot. Add the onion and garlic and sauté over medium-low heat until golden.
Break the corn cobs in half. Stand each half and up to scrape the corn kernels from the cobs with a sharp knife. Add them to the soup pot, along with the fresh and pureed tomatoes, squash, green beans, chilis, and cumin.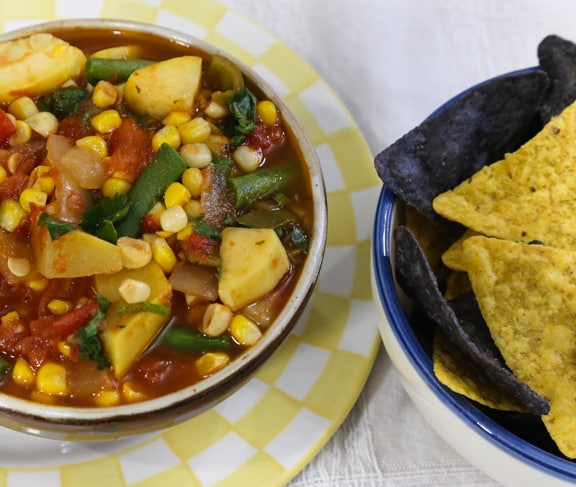 Add 2 cups water, just enough for a moist but not too liquidy consistency. Bring to a rapid simmer, then lower the heat. Cover and simmer gently for 20 minutes, or until the vegetables are tender.
Stir in the cilantro and optional oregano, then season with salt and pepper. Taste, and you'd like a spicier stew, add a bit of red pepper flakes or picante sauce (or you can pass these around for individual servings.
Remove from the heat and let stand for a few minutes, or allow to cool until just warm, then serve
Note: If you can't find green beans that look fresh and tender, use frozen green beans. Thaw them completely before using.