This delicious pesto turns ordinary carbs into special meals. You can use this as suggested below for serving with pasta, pizza, or potatoes. Or skip the carbs as I've done here, and toss this pesto with "noodles" made of raw zucchini and/or yellow summer squash made with a spiral slicer. No matter how you use it, this pesto, made greener with spinach, imparts a rich, briny flavor from the addition of miso. 
Makes: About 1 ½ cups
4 to 5 ounces fresh spinach or baby spinach or arugula
(or half of each), rinsed, large stems removed
½ to 1 cup firmly packed fresh basil
⅓ cup walnuts or pine nuts
2 tablespoons extra-virgin olive oil
2 tablespoon lemon juice, or more, to taste
2 tablespoons miso, any variety (though red or mellow white
are great with this), more or less to taste
1 clove garlic, optional (if you like raw garlic)
Combine  about half of the spinach with the remaining ingredients in a food processor. Process until the mixture is a finely and evenly chopped. Add the remaining spinach, about half at a time, and pulse on and off until the entire mixture is a coarse puree. Serve at once.
Here are a few serving suggestions:
Toss with cooked pasta (about 10 to 12 ounces) or raw zucchini "noodles" made with a spiral slicer (this pesto is enough for about 12 ounces of pasta or zucchini "noodles." Top with

Raw Vegan Parmesan-Style Cheez.

Use as a topping for baked potatoes, or use as a dressing for a simple potato salad.
Spread on pizza in place of tomato-based sauce
Add a dollop to individual servings of cold summer soups.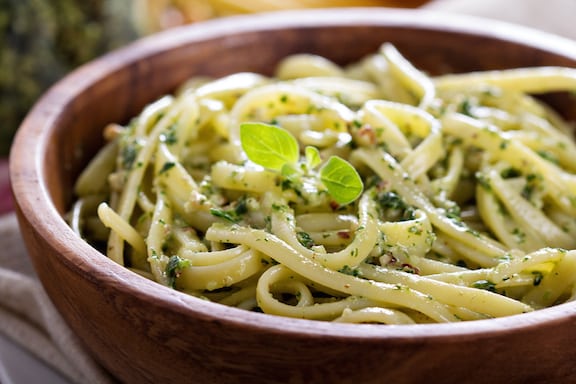 *This post contains affiliate links. If the product is purchased by linking through this review, VegKitchen receives a modest commission, which helps maintain our site and helps it to continue growing!