I have to admit that I often need to remind myself to eat more beans. It's not always easy to get excited about a meal centered around beans (unless it's a spicy, soul-satisfying chili on a super-cold day). Beans may not as sexy as other plant proteins, but they're definitely an under-appreciated food group. So with this easy meal, we're going to sweeten the deal by pairing the beans with vegan spinach quesadillas. They give the meal a definite yum factor.
As it turns out, the simple bean salad in this meal turns out to be no slouch in the yumminess department, embellished with olives and avocado. All in all, this pairing adds up to a dinner that will leave you feel virtuous and satisfied at the same time.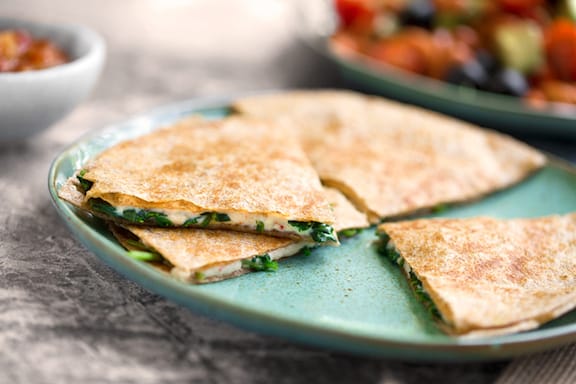 Serves: 2
Time to table: 15 to 20 minutes
What you need
5-or 6-ounce package baby spinach

1 package all-natural burrito-size tortillas or soft wraps (10 inches or so)

1 package vegan cheese shreds, cheddar or spicy pepper jack

Salsa (try a fruity variety like pineapple or mango)

15- to 16-ounce can pinto beans

1 ripe avocado

1 pint cherry or grape tomatoes

Pitted black olives (about ½ cup)

2 limes

Bunch cilantro (optional)
You probably already have on hand:
What to do
1  Rinse the spinach and wilt down about half of it in a skillet or saucepan (covered). Drain well in a colander.
2  Heat a large skillet. Lay 1 tortilla on the surface. Sprinkle the entire surface with some shredded cheese. Scatter with some of the wilted spinach, then sprinkle with a little more cheese, perhaps a little less than the first layer. Cover with another tortilla.
3  Cook over medium heat until the bottom is golden and crispy, then flip with a large spatula and cook on the other side. Transfer to a plate, wait about 5 minutes, then cut into quarters.
4  Repeat for the second quesadilla; keeping the first one warm in the meantime.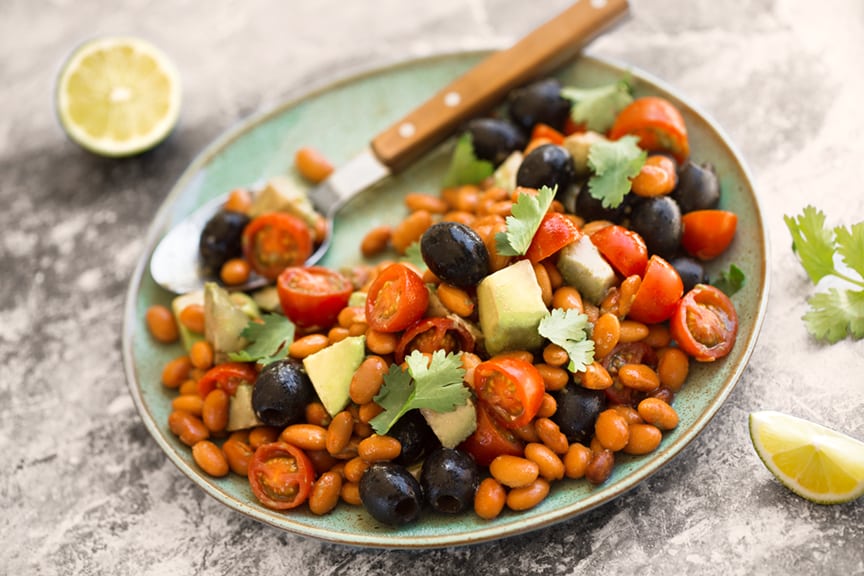 5  While the quesadillas are cooking, make the salad. Drain and rinse the pinto beans, then combine with the avocado (peeled and diced), about half of the pint of tomatoes (halve them or leave whole), and the olives (you can also halve them or leave whole). Add the juice of 1 lime and drizzle with olive oil; stir together. Garnish with some cilantro, if using. 
6  Serve the warm quesadillas side-by-side with the salad. Cut the second lime and serve wedges with the salad.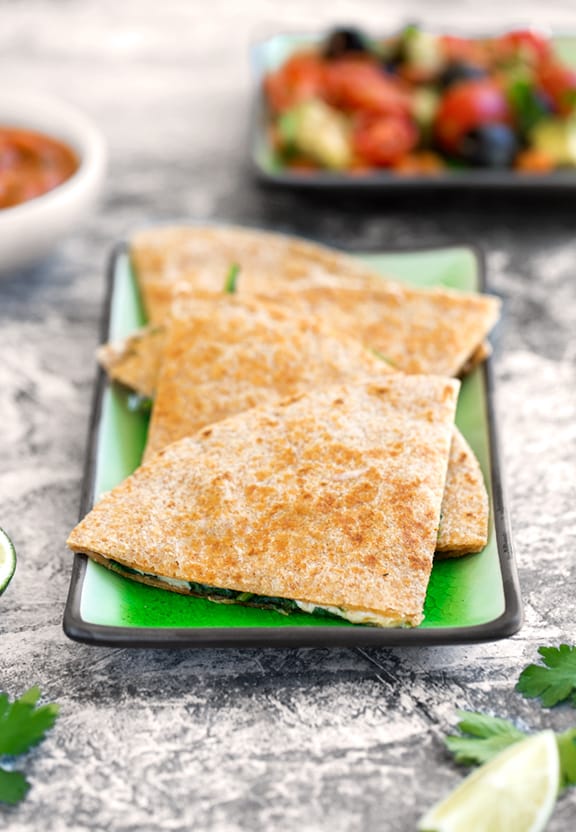 Photos: Hannah Kaminsky