Here's a lovely and refreshing salad with tender greens, Belgian endives, and tiny oranges. A hint of citrus and toasted almonds add to the fresh flavor. Photos by Hannah Kaminsky.
Serves: 4 to 6
6 or so cups washed and torn mixed greens (see note)
2 Belgian endives, thinly sliced
¼ cup thinly sliced red onion
2 to 3 small seedless oranges, peeled and sectioned
¼ cup toasted sliced or slivered almonds
1 tablespoon extra-virgin olive oil or fragrant nut oil
2 tablespoons white balsamic or white wine vinegar
2 tablespoons orange juice
Zest of ½ orange, optional (but highly recommended)
Combine all of the ingredients in a salad bowl and toss together. Serve at once.
Note: Use a mild lettuce such as Boston or butter mixed with any combination of sorrel, arugula, dandelion greens, watercress, and tender Asian greens such as mizuna in small quantities. Or, just keep it simple and used mixed baby greens.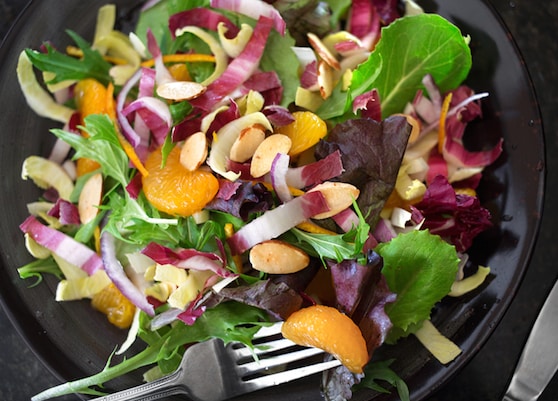 Here are more recipes for: