This is one of my favorite staples and I keep some in the freezer all the time for last minute pizzas.  The spices give these vegan crumbles a traditional Italian sausage flavor. The oats give it a chewy texture and the spices even turn the oats the color of sausage. It's at home on a pizza or sprinkled over biscuits and gravy. This is gluten-free, soy-free, oil-free. From OATrageous Oatmeals by Kathy Hester; photos by Kate Lewis. Reprinted with permission of Page Street Publishing, ©2014.
Makes about 2 to 3 cups
1 cup water

½ cup steel-cut oats

2 teaspoon rubbed sage

2 teaspoon marjoram

1 ½ teaspoon granulated garlic

1 teaspoon basil

1 teaspoon fennel seeds

1 teaspoon thyme

1 teaspoon oregano

¼ to ½ teaspoon salt, or more, to taste

¼ teaspoon cayenne, or to taste

¼ to ⅛ teaspoon black pepper 

¼ teaspoon ground rosemary or ½ teaspoon regular
Preheat oven to 350º F. and cover a baking sheet with parchment paper.
In a saucepan add the water and oats, bring to a boil then turn the heat to low and cook for 10 minutes covered. Mix all the other ingredients in a bowl and set aside.
Cook uncovered for 5 minutes while stirring to help get some of the moisture out. Remove from heat and add in the spice mixture and mix well.
Spoon the oat mixture onto the parchment paper and try to distribute it as close to evenly as possible. Then tear a second piece of parchment paper and put on top an flatten the mixture as much as possible.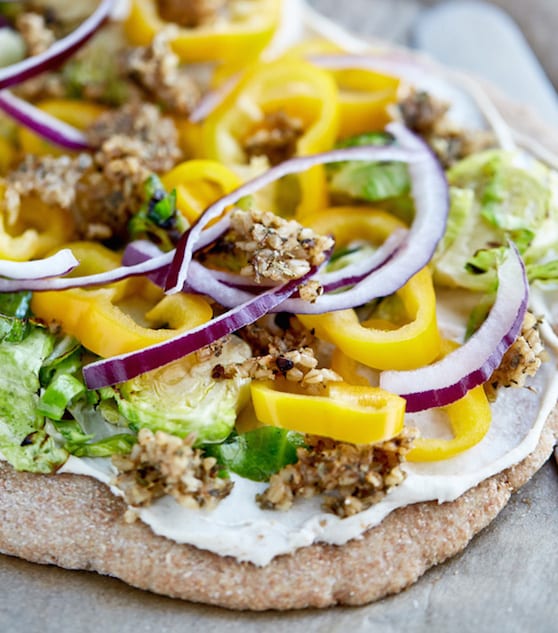 Bake for 10 minutes, then pull out and cut lines into the sausage with a spatula. You aren't trying to move it, just to make more places for steam to escape.
Bake for 5 more minutes. This time scrape and break up the sausage into crumbles with the spatula.
Bake 5 more minutes and it should be easy to crumble. You can sprinkle on pizza and you can even freeze the leftovers for another time!
Nutrition information:
Per ¼ cup serving: Calories 42.5, protein; Total fat 0.8 g; 1.8g; Carbs 7.3g; Sodium 145.3mg; Fiber 1.3g
*This post contains affiliate links. If the product is purchased by linking through this review, VegKitchen receives a modest commission, which helps maintain our site and helps it to continue growing!