Individual avocado cups, studded with corn and crisp vegetables, are an easy alternative to an ordinary salad, or a nice first course. Double the recipe if you'd like everyone to have two halves rather than one, in which case it can almost be a main-dish salad, especially if you pair it with a bean salad, like Simple Marinated Beans.
Serves: 2 to 4
½ cup lightly cooked corn kernels (preferably fresh;
if nice and crisp, you can even use raw)
¼ cup finely diced red or yellow bell pepper, minced
1 medium tomato, finely diced
¼ cup chopped pitted black olives
2 tablespoons minced fresh cilantro
Juice of ½ lemon, or to taste
Salt and freshly ground pepper to taste
2 medium firm, ripe avocados
Shredded lettuce or mixed baby greens, optional
Combine all the ingredients except the avocados in a mixing bowl. This may be done an hour or two ahead of time, or just before you need it.
Just before serving, cut the avocados in half lengthwise. Carefully separate the halves and remove the pits.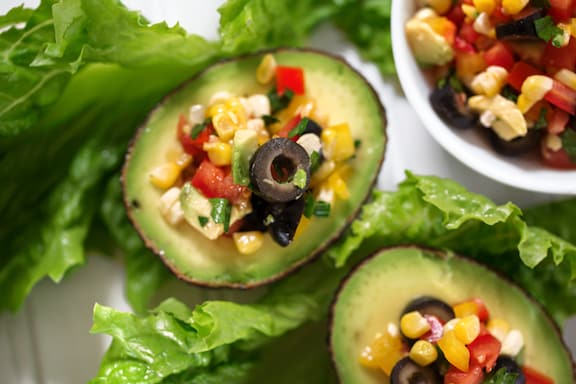 Scoop out some of the pulp, leaving sturdy shells about ¼ inch thick. Chop the avocado flesh and stir into the stuffing mixture. Adjust the salt, pepper, and lemon juice.
Divide the mixture among the four avocado shells. Arrange one or two halves small plates over a bed of greens if you'd like, and serve at once.
Photos: Hannah Kaminsky